Daisy Valera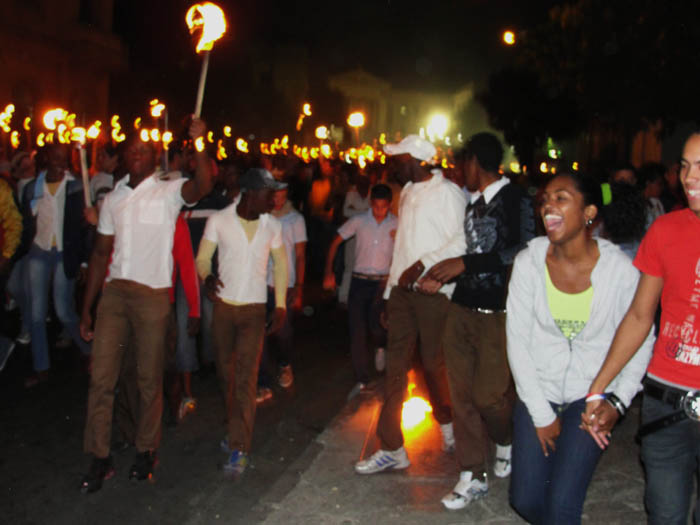 On January 28 we marked the 157th anniversary of the birth of Cuba's national hero, Jose Marti.  In celebration of this date, at 12:00 midnight on the preceding night we hold an activity known as the "March of the Torches."
A huge group of students meets on the expansive staircase of the University of Havana, where they wait for about an hour for the signal to indicate the start of the procession.
Many choose this night to meet up with friends, to have a good time and to sing.  Others give it more historical meaning and feel moved, because they come to this event as examples of the unity and strength of FEU (the Federation of University Students).
Ultimately, the groups who are there for a good time prevail over the others.
At 12:00 midnight everyone begins to light their torches and file down the stairway making their way to the Fragua Martiana (Marti's Forge), where the observance culminates.
The image of a parade like this is beautiful: thousands of small yellow-red points in the black of night. Together with the young Cubans there also parade youth of various nationalities, accenting the march with an international touch.
After walking among the participants, what I remember most are their faces, because they expressed that what these students were doing was no more than a game.
The youth played around trying to keep their torches lit, to not catch themselves on fire, or to make other people choke on their smoke.
That was all the "March of the Torches" left me with.  There was no social purpose in it, and few sensed a spirit of struggle or a consciousness of our history, our reality or that of the world.
It is indeed an exquisite show, but only that – a show.