Danae Suarez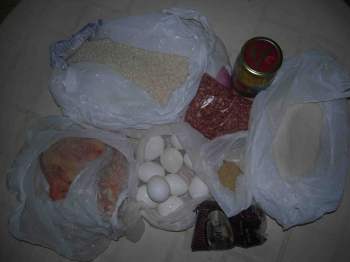 The small business that my family decided to start in order to survive was renting an apartment.  In this case it meant renting out my grandmother's apartment, where I had been living for a while, independently and far from my parents.
I had to give it up so they could rent it to other Cubans, which also meant that I had to return to the home where I was raised.
This was a sad decision that I had to accept since I had no other means of covering my most basic necessities.  However that's not the central issue of this article.
What was curious was related to the fact that I had left a neighbor in charge of picking up my entire food allocation that the government "gives" us Cubans once a month through our ration books.
On previous occasions I had always collected the products a portion at a time whenever I went to the bodega [the neighborhood ration goods store].  Though I already knew that it was only a small and insufficient amount, I'd never before seen everything together in a single bag.  That was the opportunity my neighbor gave me when she told me two days ago that she had already picked up "all of it" and that I could come and get it.
I think the photo speaks for itself; but to be more explicit, I listed the products that we each get once a month:
12 eggs
A cup of cooking oil
A half pound of chicken
5 pounds of white rice
10 ounces of grain (red beans)
1 pound of brown sugar
3 pounds of white sugar
A package of coffee
That's everything.  It speaks for itself.
It's evident that "government support" is purely formal and yet our poverty is such and so great that among the most common concerns of Cubans is what will happen when we see the materialization of the recently approved economic and social policy reforms which include "the orderly and gradual elimination of the ration book as a form of normal, equitable and subsidized distribution"?  They add: "Then things are really going to get tough."
Note: The list (as well as the photo) does not include rationed toiletries because my interest here is centered on food.  Also, Cubans are free to purchase additional food products at market prices, though purchases are greatly constrained by our low monthly incomes averaging around $20 a month.