A Documentary on Cuban Legend Omara Portuondo
Dariela Aquique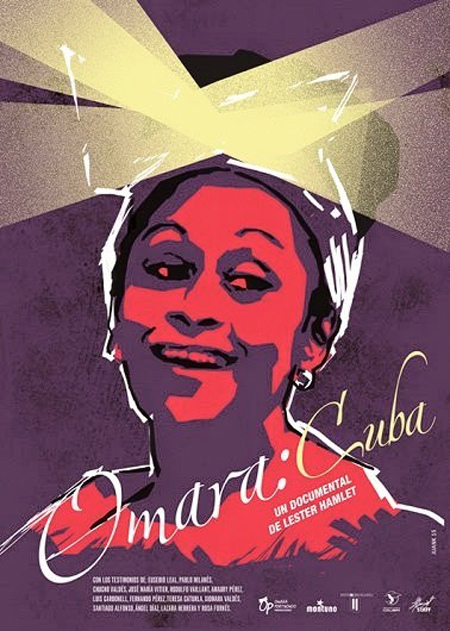 HAVANA TIMES — Omara: Cuba, a documentary written and directed by Cuban filmmaker Lester Hamlet, premiered on Cuban television some days ago. The film documents the 70-year artistic career of the "queen of feeling" or Buena Vista Social Club Diva, as the renowned singer Omara Portuondo is known.
Filmmaker Fernando Perez had already made a bio-pic of this talented performer in 1983. Today, Hamlet documents an additional 32 years of work by the 80-plus soloist who continues to perform.
With excellent editing, the documentary recreates different periods with peculiar caricatures that illustrate the situations described by the musician and the comments made by those interviewed, which include Eusebio Leal, Jose Maria Vitier, Pablo Milanes, Chucho Valdes, Tete Caturla, Alberto Alonso and Amaury Perez, to mention only a few.
The daughter of a black baseball player and a white woman shunned by her family, Portuondo claims to have had a happy childhood next to her parents and siblings in a Havana neighborhood. As a child, she already felt possessed by music and couldn't help but stop and listen to a rumba when she went out to get groceries.
Little did she know that she was destined to become one of the most popular of Cuban singers and a kind of cultural icon of the nation.
At age 17, she started out as a singer for the band Loquibambia, next to pianist Frank Emilio and guitarist Antonio Mendez. In 1950, she joined the dance ensemble at Havana's Tropicana cabaret and became a member of Las mulatas de fuego, directed by choreographer Alberto Alonso.
She would dance at many theaters before joining Orlando de la Rosa's quartet, with which she traveled to the United States and Canada.
Omara was part of the all-female orchestra Anacaona and travelled to Haiti as a member of this band. One of the most important periods of her career was doubtless from 1953 to 1967, as a founding member of the vocal quartet Las D'Aida. Directed by Aida Diestro, the quartet was made up by Elena Burke, Moraima Secada and her sister Haydee Portuondo. The best cabarets in Havana saw their most prodigious nights thanks to their unparalleled voices. So did many stages in Venezuela, Mexico, Puerto Rico and the United States.
At the close of the 60s, she was approached by the Cuban record label Areito, an opportunity she took advantage of to launch her career as an international soloist. She took part in the Cannes Film Festival (France), the Gold Orpheus Festival (Bulgaria), Gold Lira Festival (Bratislava) and Aguas Dulces Festival (Peru), taking the stage in Czechoslovakia, Dresden and Schelager (Germany). She was followed by the journals L'Humanite and L'Unita in France and Italy, respectively.
She was always working in different projects at once. She recorded an album with Julio Gutierrez' orchestra and Chilean singer Lucho Gatica. She went on a tour with the Cuban percussion band Los Papines. More recently, she has sung next to Brazilian singer Maria Betania and young Cuban musicians Polito Ibañez and David Blanco. She also took part in the "Vida" ballet show directed by Liz Alfonso.
In 1996, she joined the Buena Vista Social Club and was nominated for a Latin Grammy in 2001. She finally received a Grammy in 2009 in the category of Best Contemporary Tropical Album for the album Gracias, a collection of solo pieces with traditional melodies, boleros and jazz.
Omara has also had her stints in cinema. She acted in the Cuban films Cecilia (1982) and Baragua (1986), and in Disney's 49th film, The Princess and the Frog, directed by John Musker and Ron Clements. Omara did the voice of Mama Odie for the film's Spanish version. She lent her voice to another animated project in 2011, when she sang in both Spanish and Portuguese for a Cuba-Brazil coproduction, El camino de las gaviotas ("The Path of Seagulls").
No one has performed better covers of Alberto Vera's Lo que me queda por vivir ("The Life Ahead of Me"), Silvio Rodriguez' La era está pariendo un corazón ("The Spirit of the Times is Born") or Amaury Perez' Vuela pena ("Fly Away Grief") than Omara. Her voice has traveled around the world, making her one of the unquestionable greats of the Cuban pantheon.
I believe Lester Hamlet's homage to be fair and timely and, though I do not enjoy pointing out what I would have liked to see in an artistic product that isn't mine, I believe the documentary tries to squeeze in too much in too little time.
I feel it needs interviews with people who live abroad, such as Haydee Portuondo. I also reproach the documentary for trying to "Cubanize" Omara, showing us a woman who does not strike any diva poses, doing house chores and walking around the city. It's not that I doubt the humbleness of the singer, but, as it happens, one of my cousins is her housekeeper.
At any rate, it is a good documentary and I am glad I saw it.