Chemo at Cuba's Oncology Hospital is Free
Dmitri Prieto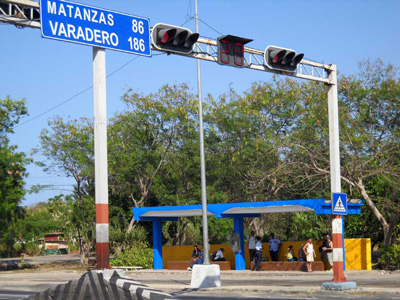 HAVANA TIMES — I was standing to one side of Via Blanca – the highway that connects Havana and Cuba's province of Matanzas – near the bus stop located at Alamar's first major intersection. Tourist buses (Transtur and Transgaviota) often stop at this intersection, as their drivers are authorized to pick up passengers headed for Matanzas and other places along the way there.
I live in Santa Cruz del Norte, exactly half way between Havana and Matanzas, and I have had to resort to these buses to get back home on occasion. The trip costs 20 pesos to Matanzas and 10 to Santa Cruz del Norte.
It was Friday afternoon and the bus stop was full of people. Some had children with them, others carried backpacks and packages. Suddenly, a Transgaviota bus pulled up to the curb and its doors opened.
Maneuvering among the throng of people scrambling to board the bus, I managed to climb the steps of the vehicle and, with the deliberate upward thrust afforded me by my legs and arms, I found myself right in front of the driver's seat.
I handed him a brown, 10-peso note and said the familiar "hello, Santa Cruz, one person." The man looked at me and replied: "I only take people headed for Matanzas board."
I tried to insist, to no avail. "I'm not going to lose a passenger headed for Matanzas to take you to Santa Cruz," he explained.
He could have well dropped me off in front of my house and picked up a person in town headed for Matanzas. There are always souls by the side of the road needing a lift down Via Blanca, and tourist buses are a very popular option.
But I had neither the energy nor inclination to reply to him with that particular argument. The driver was not unaware of that, anyways.
I started making my way against the flow of passengers to get off the bus. After I had set foot on the ground, I turned around to look the driver in the eyes and said to him:
"Ok, but remember that chemotherapy at the Oncology Hospital is free." The faces of the other passengers didn't register any kind of interest in my retort.
To give my words more consistency, I pointed with my right hand at that point near the left wrist where patients are injected with the cytotoxic chemotherapy serum as the bus started on its way down Via Blanca.