So What Happened to Cuba's New Cooperatives?
Dmitri Prieto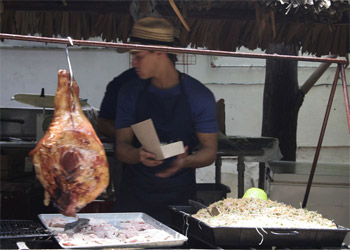 New legislation was recently passed authorizing more occupations to be carried out by workers who are supposedly "autoempleados" ("self-employed").  The announcement came on TV, when parts of a press conference were broadcast with the ministers of Labor and Social Security, Transportation, Finances and Prices, and the president of the National Housing Institute.
This new regulations increase the number of diners allowed in paladares (private restaurants) to 50, while private transportation providers are exempt from paying state fees while their cars are undergoing repairs.  The types of newly permitted self-employed work activities include insurance agents, fiesta organizers, etc.)
For me, the essence of the matter is that all "self-employed workers" will now be able to hire employees (wage-laborers).  Previously, only those who carried out a few specific occupations were authorized to do this.
It's clear to me that the person who hires a wage-labor worker is no longer a "self-employed worker": they are small businesspeople, small time capitalists, and members of the "petty bourgeoisie."
What's not clear for me is what legislators did in relation to cooperatives, which had been so well publicized and prominently promoted during the discussion of the pre-party congress "Guidelines…" for reforms in the Cuban economy.
From now on, the hiring of wage-laborers is the only mechanism for economic entities that are independent of the government (except for agricultural cooperatives) to increase their size and involve more people.
This promotes the expansion of vertical relations instead of horizontal ones; subordination instead of cooperation; active embryos of private capitalism instead of…