The 'Candongas' of San Rafael Boulevard
Dmitri Prieto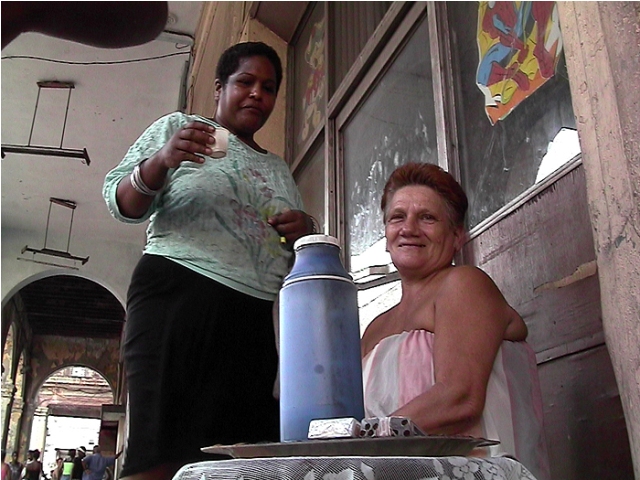 I've know San Rafael — the emblematic street of Centro Havana — ever since I was a little boy.  I would come to Cuba with my parents for vacation and we would go for walks along the part of it turned into a promenade.  I remember the cartoons of Elpidio Valdes that were shown in the little children's cinema there, and once my folks took me to see Fantomas at the Rex Cinema, which has now been torn down.
I used to like square yellow-on-gray pavers, the big lit-up red ball that adorned the pharmacy, and the barber shop posts with their spinning white, red and blue colors; they didn't have those cylinders in Moscow.  Later I learned from a book that the red and blue colors represented blood running through arteries and veins, since the old barbers' guild also included dentists.
Recently I again walked along San Rafael's "Boulevard" (in Cuba, a boulevard has nothing to do with trees, like in Paris or Moscow; it's simply a pedestrian walkway).  Of course, I had walked down that street many times in the past, but this time what struck me was a new and very important fact.
The street has now become a "candonga," a word brought back by Cuban soldiers from Africa which means an informal market of odds and ends.
Given the economic reforms that have just started to be implemented, the number of private producers and vendors of all types of goods has already grown.
With a quick glance along the Boulevard, and I could appreciate the abundance of vendors of all types of household utensils and spare parts, watch repairers, booksellers, artisans, and especially the sellers of CDs and DVDs with audio-video recordings (as well as computers games, I imagine).
Those audio-visual disks were the most visible.  In Cuba, there's normally not a lot of concern about matters as esoteric as copyrights, therefore people have begun copying movies, music and software with all the freedom in the world.
The expansion of such activities is now in full swing, and it has apparently been transformed into a profitable business (given the number of micro-impresarios that practice it).  "Bicitaxis" zealously guard both extremes of the Boulevard, with their pedaler-drivers zealously offering their services.
I also noticed that in the neighboring areas they've opened new private stores hawking religious articles for Afro-Cuban rituals.
"Candongas" (with other names) were the signs that marked the crises of the "planned economies" in the countries of Eastern Europe and Southeast Asia, including the former-USSR and China.
In the Gospel they say we should learn how to read the signs of the times.
Only the Rex Cinema continues to lie in ruins, like before.  Fantomas has taken a vacation, but perhaps we'll soon see it in some outlying neighborhood of Havana, working for some private guard service company.