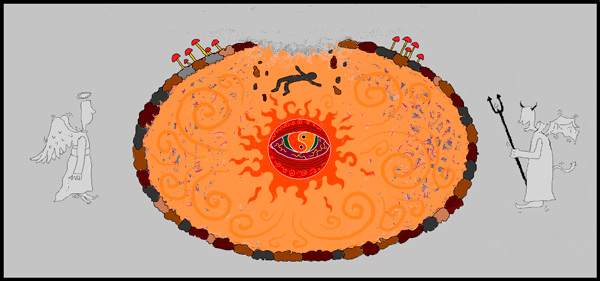 Erasmo Calzadilla
HAVANA TIMES — In this post, I would like to share an image I dragged back from "beyond" during my last adventure with entheogens. We'll be going scuba-diving into the depths of Being, so get ready.
A transversal cut across Being reveals its similarity to a planet: both are made up of a round outer crust and a red-hot core. Let us travel outwards from the inside.
At the very heart of Being, we find a point of boundless energy, a kind of metaphysical singularity that writhes in an endless struggle with itself. Neither time nor space nor any category we can think of survives the immense "pressure" of this region. Some call it hell, and it is indeed an infernal "place."
As we move away from the furnace in which the world is being perpetually forged, we penetrate the magma. Tumultuous, dense and fluid, the magma shows us the first signs of "material" consistency. Contraries, categories and entities lie here in an embryonic state, but the intense "heat" prevents them from solidifying.
As we move further out, the "temperature" drops further. At one point, the magma crystallizes and breaks up into small "solid" and rigid units with well-defined edges. We have reached the crust. The stones wedged in the crust are the elements out of which "the world we live in" is made.
Because of their rock-hard and reifying nature, concepts are incapable of capturing the unstableness and fluidity that lies beneath them. When they attempt to do so, they stumble upon insurmountable paradoxes, like those attributed to Xenon. In the best of scenarios, reason manages to understand its own limitations and the necessity of a "beyond", but it never manages to "see it."
On the basis of the above, we can rethink some terms used in common parlance:
Insane: a person whose (perhaps too rigid) crust has broken up following a trauma. The resulting fragments float over the magma in an unstable fashion and rarely manage to come together again.
Sane: a person who overestimates the thickness of the crust or thinks that there is nothing beneath it. The slightest tremor terrifies them and they would not doubt to kill those who make them doubt about its firmness.
Creativity: the quality of an "immature", soft and malleable crust that gradually degrades into the magma, with which it maintains a constant recycling process. Children are a good example of this.
Entheogens: substances that soften the crust and allow us to fall into the underworld. Once we have "submerged" ourselves, we can look "upward" and see the thin layer we had accepted as all of reality for what it is. When the effects wane and the crust reforms, we tend to "forget" the experience. It is impossible to access it through the "visual" field of our day-to-day awareness.
Shaman: an extraordinary person capable of diving into the magma of their own will or someone who inhabits the frontier between the two worlds. Someone who can guide others.
Pseudo-shaman: a charlatan who claims to have gone very deep. If you ask for proof of this, they remind you of the limitations that prevent you from seeing beyond your capabilities, etc. I know someone who qualifies.
True religion: knowledge and practices aimed at preparing us for that invisible universe where all beings are not aggregated but relegated.
Philosophize: an attempt to build a model of the All using the rocks of the crust only (and sometimes stubbornly). Some all too readily accept the limits of thought and language (early Wittgenstein, logical positivists), while others try to descend as deep as possible without renouncing to intelligibility (existentialists).
Sky or heaven: the region that is coldest and furthest from the core, comprising archetypes and platonic Notions. God and Satan, understood as perfect models of the positive and negative, are residents of this icy "city."
Platonic eidos: an entity that has fully expelled its contrary from within it. They are the perfect crystal: fascinating, immaculate, incorruptible and lifeless.
False religion: that which invites us to take the sky as our ultimate horizon.
What did you think? Do you think I've gone off the deep end, that I've mocked you, that I've revealed a great mystery? Or do you rather just want to kill me?
I think it's a suggestive image, provided we do not reify it.