About Me & a Friend with Big Black Balls
—For me and others writing in it, this blog serves as an escape valve from much pent up tension. Social tension, the tension of living in a political and social reality that I would call difficult, and that word is not a comparative term with anybody, just a reference as to what I feel.
That's why many of the topics that spontaneously come to me when I sit down to write are precisely those that I've had to suppress for a long time.
The situation gets worse as I am currently involved in a conflict at the university where I have little chance to win, and possibly my professional life will be seriously affected.
So that's why all the topics I write on are quite bitter, or better said caustic and discouraging. Nonetheless, I'm not always like that.
I have a marvelous hope that is always with me, something like a faith. It's related to having learned philosophy, which I've been in love with ever since, sometimes to the unease of my girlfriend-when there was one. But it's not that I'm always in the clouds, as one might imagine.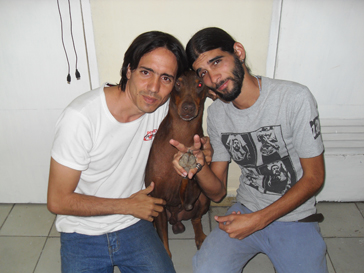 To share with you a little about my personal life, I recently became the friend of a dog, an old mangy Doberman that has been loose in my neighborhood for some time. He has become famous for his long static poses with a fixed look into the distance, and also for his big black balls.
We built a home for him out of old discarded shelving and began to cure his sores, but he goes from one ailment to another, a blow to my wallet and a joy for the local veterinarian.
I have a tremendous fondness for this animal, that comes from who knows where. The dog seems like a bewitched person; I don't know if it's because of its large size, the sorrow in its gaze, or for the unique way it demands affection.
My friend Onel and I gave him the name Bruno, because he had the distinguished air of an old and tired butler, and because of his lack of aggressiveness, rare for this race. If anyone knows a pained soul with those characteristics, please send me an e-mail soon.
Now, suddenly, Burno is limping, with an ugly lump on a joint. We had to carry him to the veterinarian, which we were barely able to do. It turns out that the vet knew something about his story: There was a girl that cried a lot after losing Bruno and nobody knew how to find her. It seems more like a fable than reality, but it's true that Bruno seems like he's out of a mystery tale.
Now I've showed myself that not only can I write social criticism, little disguised venom, but also stories of daily life, not necessarily happy-but about love.