Cuba: "Homeland or Death, We Will Grow!"
Erasmo Calzadilla
HAVANA TIMES — During his closing speech at the recently concluded parliamentary session, Raul Castro confirmed that the Cuban economy is slowing down and, in the same sentence, predicted an excellent growth of more than 4 % for the coming new year.
This left me speechless for, regardless of the miraculous efficiency and productivity we could achieve once the "productive forces have been freed", the global economic arena does not seem to suggest that such a spectacular leap forward is possible.
The World Bank and IMF, institutions that are inherently optimistic, predict a growth of 2.2 % for Latin America and the Caribbean and that of 3.1 % for the world in general. How could Cuba, with a ramshackle infrastructure and allies in a tight corner, grow at a rate comparable to that of the BRICS and the well-positioned emerging world powers?
If all of this sounds crazy or smells like a distraction strategy, it will seem all the more so after listening to the analysis of the most recent report issued by the International Energy Agency (IEA) conducted by researcher Antonio Turiel. Below is a summary of this analysis.
Liquid hydrocarbons (including crude and non-conventional oils) are not replaceable. Without growing supplies of these fuels, no economic growth is possible. Have we at least secured the supply of these fuels? I will present you with the data so you can draw your own conclusions:
According to the 2014 World Energy Outlook report, the volumes of liquid hydrocarbons produced will be as illustrated in the following graph: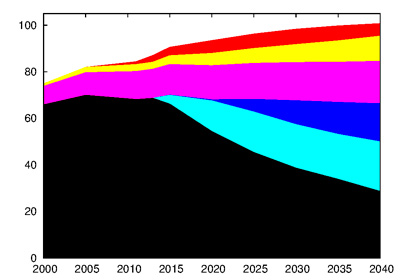 Legend:
Conventional Hydrocarbons:
Black: Crude fields currently being exploited

Light blue: Fields that are not yet being exploited for economic reasons

Dark blue: Fields not yet discovered
Non-Conventional Hydrocarbons:
Purple: Natural gas liquids

Yellow: Other non-conventional hydrocarbons, excluding shale oil

Red: Shale oil extracted via fracking
At first sight, it would seem as though our future is guaranteed. The total volume of hydrocarbons produced will not grow exponentially but will do so in a stable and uninterrupted fashion for several decades. So, where's the problem? Let us take this data apart.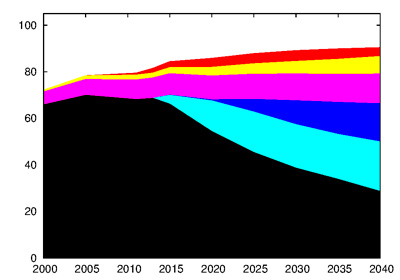 The energy density of non-conventional hydrocarbons is 70 % lower than that of crude oil. Reporting energy production levels in units of volume is therefore misleading. With a series of adjustments and calculations, we can convert the graph above into one showing gross energy output over time in Graph 2.
Gross energy outputs derived from liquid hydrocarbons will remain stagnant for the next two decades. This does not suffice to sustain a system whose principle appears to be "grow or die." But let us continue.
If we subtract the energy consumed during the production process from the gross energy output, we get the net energy output, which is the amount of energy that is actually available for social use. Graph 3 shows us that the net energy derived from liquid hydrocarbons is already decreasing. We can expect an intensification of conflicts among nations that will in turn affect the world economy.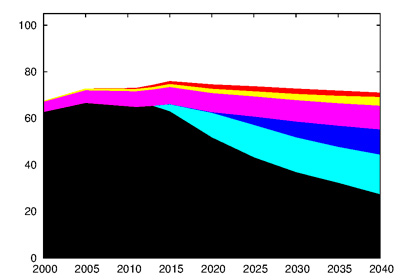 But let's not stop here. At the conclusion of his study, Turiel belies a number of stances assumed by the IEA which contradict concepts that are well-known and commonly accepted by geology and other sciences that study these issues. Once the adjustments are made, we get: Graph 4.
We are now in a position to understand why it is so difficult to overcome the current crisis, and why it will continue to be difficult. Only a miracle will avert a vertiginous collapse, a miracle which, according to data offered by the IEA itself, will not come out of fracking (see the red line in Graph 1).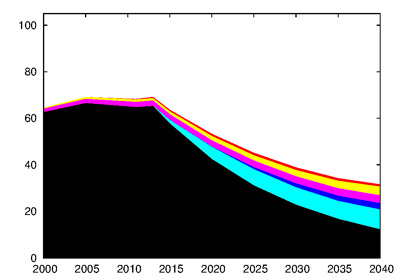 Bearing in mind that other energy sources (gas, coal, nuclear power) are also or will soon be in decline, considering that our allies are treading something of a tightrope, noting that the US blockade has not yet been lifted (and, even if it were lifted tomorrow, its nefarious consequences will not be overcome in a long time) and assuming that the infrastructure of Cuba's economy is in ruins, we could well ask ourselves the following questions:
What are our experts and political leaders relying on to assure us we are going to grow at breakneck speed? Do they have a card up their sleeves or is this another "white lie" to gain time and seduce investors? Have they discovered a juicy oil well or are they already counting on US dollars?
Every year spent trying to catch up to the world capitalist system, in the hopes it will be reborn, is more time we waste and constitutes an irresponsible and suicidal attitude. To distance ourselves from the beast in free-fall in time is no longer an ideological or moral issue but a simple question of survival.
—–
Notes:
I use the plural for purely rhetorical reasons: all calculations and graphs were done and prepared by Antonio Turiel