A Popular Hangout in Alamar, Havana
Ernesto Carralero
HAVANA TIMES — I called a friend. We agreed to meet up at an establishment very close to a place people call the "Curve", in Alamar, to have something to drink and talk.
The first thing that struck me when I went out was the profound darkness that envelops this part of the city. It is a total, almost terrifying darkness that seems to threaten you into returning home.
One walks on tenterhooks, fearing you will get mugged at the next street corner.
When I finally got to the meeting place, I found it closed. I called my friend again and we agreed to meet a few blocks up the road. We finally met up but, surprise, surprise, the place was also closed.
"Well, our only remaining option is the Malecon without the ocean," my friend said to me.
At an intersection where one of Alamar's 12-story buildings is located one of the very few establishments in Alamar that are open 24 hours.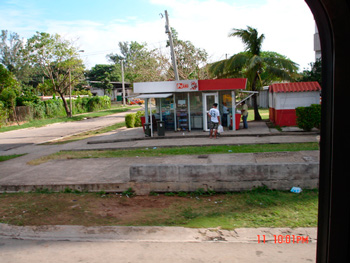 It is a Di Tu (hard currency) fast food stand. Across the street, there is a wall that is always crowded with people, enveloped in darkness like the rest of the housing projects.
I had never sat on this wall before, and I discovered it is a meeting point for the young people of this forsaken neighborhood.
Those who don't have the money to go elsewhere, can't find a place to go to or have no time or interest in going into Havana meet at this wall.
It's incredible that, in a neighborhood with over 20,000 residents, they are building a district attorney's office and that this neighborhood has no streetlights or places where young people can meet or, say, buy some ice-cream at night.
It seems like Cuba's well-known Calabacita lullaby puts the entire neighborhood to sleep.
I realize that the "Malecon without the ocean" is a habitual meeting point for many fellow citizens.
The young and not-so-young wander down the street and give out a cry of joy when they run into anyone they know.
I was actually surprised to find the kind of meeting spot for the young one finds at the intersection of 23 and G streets in Havana. Here, however, they play reggaeton instead of rock music.
I wonder how many similar spots young people in Cuba have created for themselves in their anxious search for a place to their liking.
Is a small establishment where friends can meet and talk less important than a district attorney's office? Wouldn't it make the State more money?
Is it more practical to prosecute the crime encouraged by the prevailing darkness than to solve that particular problem?