By Esteban Diaz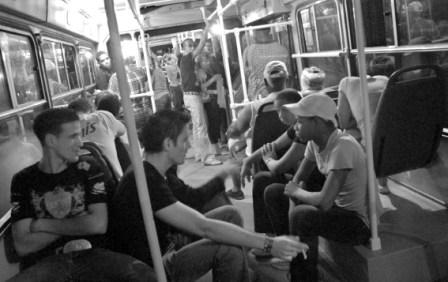 A couple of weeks ago I was fed up with listening to the young trova musicians, who sing nothing more than "fiesta, fiesta, life is a fiesta."
After having learned all the songs of Silvio Rodriguez, and coming to the conclusion that trova is no longer played by the younger generations in today's Cuba, I threw up my hands and prepared to kick back in my friends' company.
We went to a bar, where it struck me that all was not lost.  That evening Ray Fernandez was playing, a contemporary trova musician – who can be called that more for the lyrics of his songs than his age.
After having heard so much musical mindlessness, listening to his music was like coming back to life.  Between the new trova musicians and reggaeton, everything else had been erased that stood up for workers' struggles in musical culture.
Ray is one of the best trova musicians on the island today, at least of those with whom I'm familiar.  His songs – like "The Worker," "The Manager," "Banker's Blues" and "The Book Vendor" – give me a hint that there remains people who sing for the Cuban worker and who are not afraid to say things like they are.
With a mixture of old and new trova, along with a touch of the blues, he has renovated trova, ingeniously rescuing Cuban and workers' culture from the abyss into which it had fallen.
I hope I didn't stumble upon him by a mere stroke of luck, and that there are other musicians lost in Havana who can extricate me from the otherwise depressing trova and reggaeton.