By Francisco Castro
And everything remains in its place
The paving stones and the past
[…]
William Vivanco.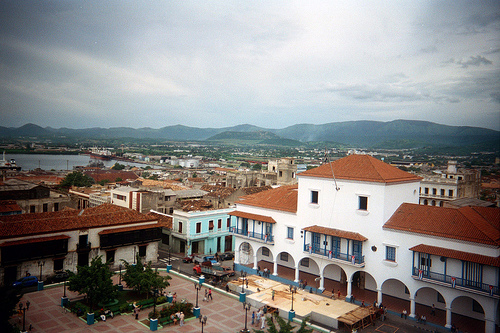 There is an old popular joke stemming from one of the many epithets by which the "Heroic" City is known.  The Revolution was born in the mountains of Eastern Cuba and Santiago was its cradle.  It defecated there, and when it grew up, it moved to Havana and left the cradle defecated.
Santiago, heroic city, protagonist of the clandestine struggle during the last war of national liberation, is not the same today.
Or is it?
As one slogan goes, this city, rebellious yesterday, welcoming today, always heroic, flaunts an immobility that is cause for sadness.  The rebellious part was left in the past; the welcoming, well, it is more welcoming than Havana, although there is a certain amount of contamination from Havana, maybe due to internal migration; and heroic, of course, heroic to bear all the fierce kicks that come from above, from behind and from everywhere else.
Being away from this city for the last five years, transculturalized by the cosmopolitan metropolis of Havana, has given me different eyes to look at it and a different heart to love it with.  In 2009, Santiago de Cuba hurts me.
After accumulating stress for six months while working on my thesis, and before getting involved in new projects, I decided to rest, for two or three weeks, in my home city.
I will not deny that the only incentive to face a 14-hour trip by bus are seeing my mother, and the two or three friends that time and other demons have not succeeded in distancing from me. Not to mention the rest and oversleeping, and waking up with the hot food of maternal love, because Santiago never created in me a sense of belonging that made me yearn for its streets or people.
However, as always, I arrived in the city at its worst moment. Or the best, depending on your point of view: Carnival time.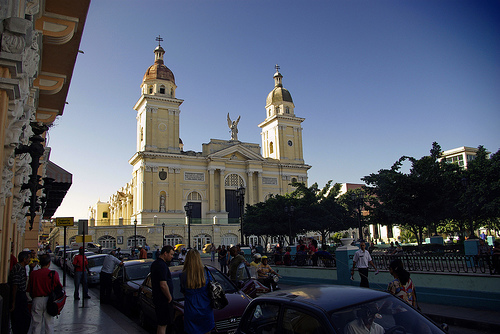 Santiago's Carnival is the most famous party in the country and the most awaited in Santiago. Hundreds of thousands of people enjoy the floats and parades, draft beer and food, the fairground attractions and games, and the music blasting from every corner.  This is precisely what I reject the most.
But there is a simple solution to my problem; simply don't go, right? Wrong.  As the saying goes, when it rains it pours.
My neighborhood, Sueño, has historically been a very crowded area during the Carnival.  And in the last four years, on the corner of the block where my house is located, they have set up a restaurant that includes six or seven beer stands with huge sound systems.
As a result, approximately 190 hours of thundering sounds -music at full volume, generally playing the same songs over and over again as if the DJs only have two or three CDs- and an infinite number of men and women urinating the beer they drink by tons behind the first wall they find, in front of whoever happens to be standing there.
Rest? No.  Not at least during the seven or eight days that the well-deserved outdoor parties last.  And it has been like this as long as I can remember.  The moral?  Now that my life as a professional begins in Havana, I need to plan my vacations in Santiago on dates that do not clash with Carnival.
And of course, during a time when the demand of interprovincial bus trips is not at a peak, to avoid adding the headache of wondering whether I will be able to get a return ticket.