Old Heads (III)– My Goals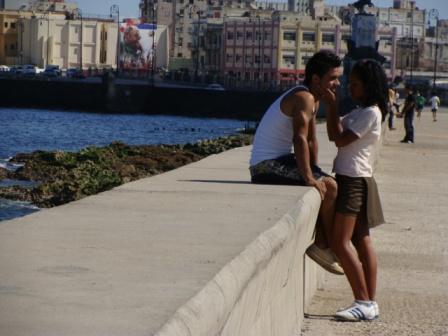 By Francisco Castro
The audiovisual work that I produced in collaboration with dozens of people who, in one way or another, contributed to its happy ending, had its origin in the story of the same name by Argentine writer Jorge Luis Borges. The synopsis could be summarized in a few words: After seven years, two men reunite to settle an outstanding debt.
Beyond vengeance, I believe that the most important aspect of this story is the system of values that moves its characters to act. El Negro (the black guy), a solitary type, seems to represent a generation that is going downhill, as does El Jinete (the horseman). This, however, does not prevent them both from leaving the best of themselves in children (in the case of the El Negro, with a guitar-playing boy; and in the case of the El Jinete, with his children). The youth are obviously representatives of the new generation.
The confrontation between El Negro and El Jinete does no more than confirm that the old world (of rigid values based on the law of the jungle) serves no purpose for the new generation. This world is represented visually in a bar, where most of the story unfolds, and where there is always a marked difference between the space occupied by El Negro and that of the boy.
The last scene works as a kind of moral that serves all generations. It seeks to analyze the methods used by each of the two parties to achieve a mutual coming together, which is vastly important for humanity's development.
In the thesis I intended to demonstrate with this work was that people develop a system of values which they find very difficult – if not impossible – to undo or modify, even in extreme situations.
The objective is to show that vengeance, when transformed into obsession, is counterproductive in the sense that it not only affects the one who harbors it, but everyone who happens to be around – even influencing the conflict between generations. The vengeance catalyzes the life of the person who harbors it, and this then becomes their principal objective, to which they subordinate all their actions.
However, with my written report, I proposed other ideas and objectives.
Using the production of the audiovisual work as a pretext, I wanted to demonstrate in my thesis that objective conditions exist that allow for the gradual placement of students into the professional television industry. Also as objectives, I wanted to evaluate the process of student placement in this industry, the relationship between this and academia, and to demonstrate the importance of linking students with professional production starting from the beginning of their studies.
This decision, supported by my advisor, and also taken on by classmate Ana María Gonzalez (who proposed to evaluate the contributions of FAMCA (our audio communications faculty of the Higher Art Institute) in her training as a photography director), was not enthusiastically received by those in the faculty in charge of evaluating thesis exercises.
To be continued…