A New Restaurant in Havana's Cerro
Graham Sowa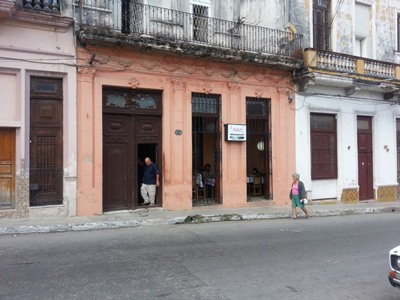 HAVANA TIMES — Havana's offerings of Comida Criolla mostly consist of overly greasy, yet surprisingly dry fare; usually served at room temperature.  My definition of the national food of Cuba got a second look after I went to the newish restaurant Aqui in the Cerro neighborhood of the capitol.
The location is just as noteworthy as the quality, as the Cerro neighborhood is not the place I expect to find food that is worth neither the money nor the wait.
The neighborhood's main street, Calzada de Cerro, is littered with cafeterias or restaurants run out of homes that all sell the same low quality food with the same indifferent and, frankly, annoyed attitude.
Buying street food begins with the attendant ignoring my first attempts to order, usually busy paying attention to an important moment in a reggaeton music video.
Once I have their attention there is no guarantee I can hold it, as interruptions of passers-by almost always takes priority over my transaction.  Further frustration ensues while waiting.  The ultimate disappointment arrives with the food.  I frequently tell myself "never again".
Based on this too often repeated experience I pretty much ignored people when they recommended I give Aqui a try.
However the other week my curiosity, and hunger for something new, got the best of me.  So I headed to Calle Patria, up the street from the Baseball Stadium Latinoamericano to give Aqui a chance to prove me wrong.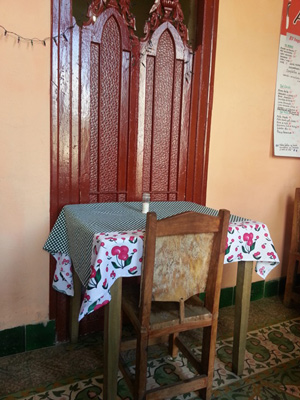 The location is overly typical of restaurants and cafeterias near the Calzada de Cerro: along the street inside an old building that has seen better days.  But the similarities end there.
The ambiance starts with plenty of natural sunlight since the front of the restaurant opens to the street through several sets of doors.  I imagine the traffic can be annoying on weekdays, but on Saturday afternoon it was super tranquil.
Restoration work inside the house has been minimal and smart:  a new coat of paint in original colors, attention to the details, ceramic tiled floor older than your grandmother, and an overall cleanliness that exceeds expectations of people used to Cuban eateries.
The service was quick and efficient; as it should be since there are only 6 tables.
Both times I have gone there were multiple offerings of pork, chicken and fish, or the 3 P's of Cuban Cuisine: pollo, puerco, y pescado…unless of course you are eating off the government libreta, in which case there are only 2 Ps thanks to the "Pollo por pescado" program.
What makes the 3 Ps exciting at Aqui is that they are not afraid to incorporate new ideas in traditional Cuban cuisine.  It is as close as Cerro is going to get to fusion food any time soon.
It is worth visiting given its proximity to Capitolio and Havana Vieja, and will give the tourist a good example to see something in Cerro other than the Bocoy Rum Factory that receives tourists by the busload.
Aqui can easily be accessed from Capitolio via the P14 bus (get off at the stop closes to Patria…ask other bus riders) or taking a collective taxi from Parque de la Fraternidad.  Once at Patria Street and Calzada de Cerro walk half a block toward the baseball stadium.  Aqui is across the street from DiTu Pollo, a state run chain snack bar known for its poor service and selection of products that reads like a list of risk factors for heart disease and diabetes.
Aqui has managed to open a restaurant with half a dozen tables in a colonial home that lets you get away with eating a meal that would cost $5-$8 dollars in a state run place like Los Nardos for nothing more than $2-$3.  Accepts Cuban or Convertible Pesos.