A Summer Night at Havana's Carnival
Irina Echarry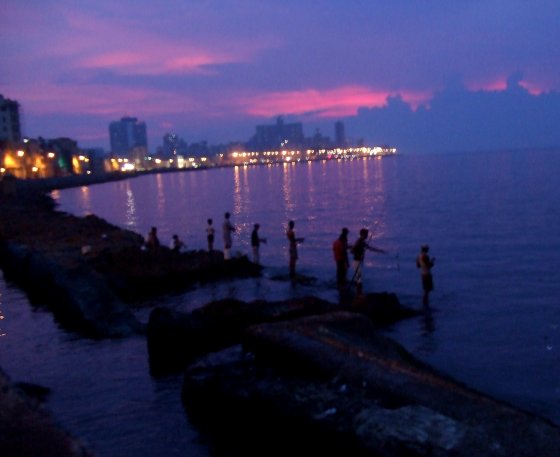 Summer carnival in Havana is an inexpensive way to have a good time.  It's an alternative for regular people (those who live off their monthly wage and not the black market).
These are people who don't have money to go to other places where prices are generally paid in hard currency.  Attending carnival are people of all social strata, any ideology or sexual orientation, and those of different races; everyone merges to delight in the activities taking place in the August heat.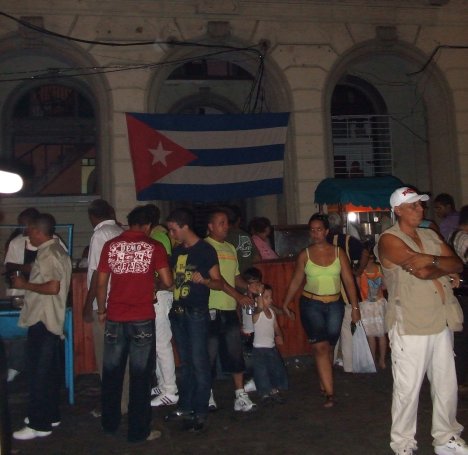 I resolved myself to reporting on the happening for Havana Times, so on Sunday I prepared myself to join in the last day of carnival. I was in the spirit of changing my normal routine, but what did I find when I went down to the Malecon and walked to Maceo Park?
As always, the seawall was full of women and men talking and drinking, full of children playing or crying. The residents along the strip had kindly put their speakers out on their balconies so that Daddy Yankee could be heard as far as Puerto Rico.  Yet I perceived something strange in the air, a latent aggressiveness that struck my nerves.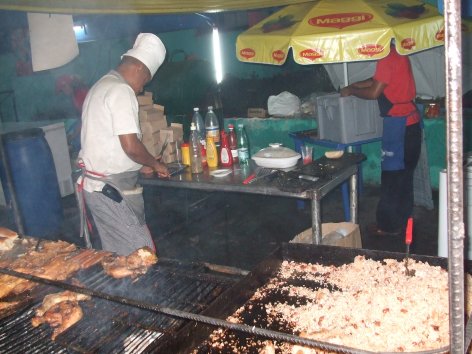 In the bus that pulled out from Alamar, my neighborhood, a discussion heated up that ended in a fight at the bus stop at the exit of the Havana Bay tunnel.  Four people (girls and guys) against one guy.  I didn't look, but from that moment on my chest began to feel dispirited.  Later, while walking, I felt that such aggressiveness had been invited by the night.  People, making gestures with their hands and talking loudly, uttered things like: "Me? – yeah, I can take care of anything out here.  I ain't afraid of nothing." Still, I should point out that, these were only words – there weren't any more fights.
Once I got to Maceo Park was when the flow of people really began, with the mass shifting from one side to the other, as if they were looking for something they couldn't find, or as if maybe they had found it.  There were food stands selling hot dishes, rum, snacks and different types of beer (in cans, bottles or from the tap). This was of course accompanied by the usual lines, but they weren't as crowded.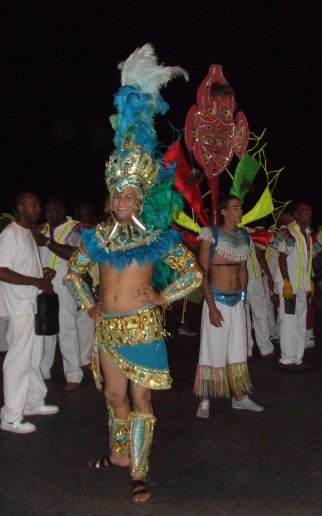 Traditionally in the carnivals are floats and processions, masks and gigantic papier-mâché heads. This year not everything was there, only some colored lights that gave one the faint idea of a street fiesta; despite my desire though, sheer imagination was not enough to fill in the blanks.  Perhaps it was the lack of resources, or the lackluster organization, or who knows what, but the fact was that the design and arrangement of what was parading along turned out to be pretty boring.
Speaking of processions, I spent more than an hour waiting for them to begin performing.  I was hoping to see the legendary Alacran procession, with their spinning and glitter.  I was able to find a good spot in front of one of the floats, right up against the railing.  Content with having secured a clear vantage point place from which to watch, my spirit soon deflated when I could only appreciate the contorted bodies of kids parading along while dancing reggaeton. The true focus of the night was that monotonous rhythm; it had replaced traditional rumba and the conga line, which used to snake through the street uniting people in dance, even though they didn't know each other.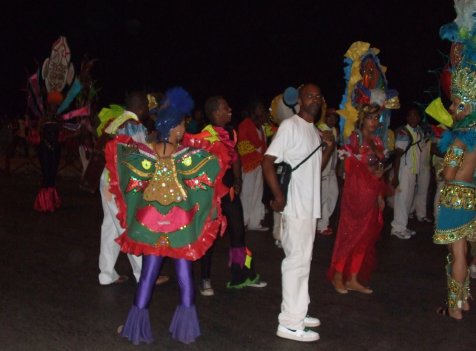 But reggaeton also unites people: everybody dances it, they move the same way and they hum the same lyrics (some comical, others almost unintelligible, and many just plain aggressive).  Initially I found it to be a good show, but it was so repetitive that at one point I didn't know what to do to hide my torment.  In the end, people had gone to carnival to have a good time, and most people did – except for the police, whose fright was reflected in their young faces.
Perhaps for the next carnival I'll be able to dance reggaeton if I set myself that goal.  But the fact is that I don't find it graceful to move my hips so much without some objective, impelled only by that sound.  I don't care for repeating those movements as if hypnotized or subdued by something powerful that accelerates my heartbeat but prevents me from thinking.