Irina Echarry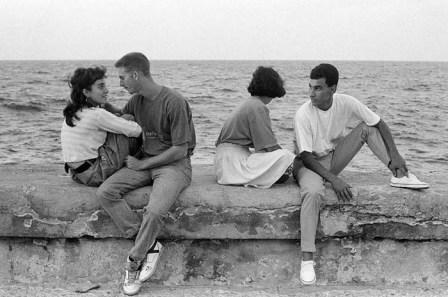 When anyone talks about violence against women in Cuba, it's important to note that those who live outside of the capital are in the worse situation.  There, machismo is stronger (among both sexes), customs change less than in the city, there are fewer job opportunities, and there exist a series of socio-economic and cultural conditions that enable aggressive behavior toward females.
A few days ago, when getting on the bus, my eyes happened upon man in a uniform who was "playing" (that was my first impression) with his "girlfriend."  She was sitting, and he was standing beside her.  The way he was squeezing her neck with his entire arm struck me as being too rough for a game.  I immediately understood what this was about.
There was tension between them, just as there was tension among everyone around them, mostly young boys on their way to go swimming at the beach.
The tension between the man and his "girlfriend" was increasing.  She asked him to let her go, so he squeezed her neck even harder and told her off for some conversation she had had with someone he didn't like.
I didn't take my eyes off of them and I wanted to intervene.  But who could I call? – a policeman? The guy in question was a uniformed police officer.  To prevent him from continuing to hurt her in that moment wouldn't have solved much.  Even if he did listen to me, he would probably get back at her with even more brutality when they were alone.  So the squeezing and slapping continued until they got off the bus.
The young woman was very young, and you could tell she had recently moved here from an eastern province (or was visiting here in Havana).  If I had known of some help center I could have been of some assistance.
Then again, to advise her go to one of the Woman and Family Care Centers would have been a joke, among other reasons because it was a Saturday night, a bad time for someone to need help.
Likewise, to make a complaint at a police station and give the badge number of the abuser wouldn't do a lot of good, not without proof or the victim pressing charges.  It doesn't appear to me that policemen, up to now, have received any education concerning this issue.
They are men, and most come from the eastern provinces – where "putting a woman in her place" is something common.  The other passengers were uncomfortable, but most were male, and some of them expressed their concern by saying, "What did the girl do?  Those eastern women are a handful." Others only shook their heads…as if in denial, as if with that simple motion they were solving some kind of problem.
I hope someone with certain power will read this…and take action.  The experience has taught me that there's little that can be achieved when we try to unite outside of an established organization, but women and men who love harmony, respect and peace must do just that.
Perhaps someone is interested in knowing that the policeman's badge number was 40787, but he's not the only one, with or without a uniform.