Government's Private Taxi Experiment Backfires, Population Pays the Price
Irina Echarry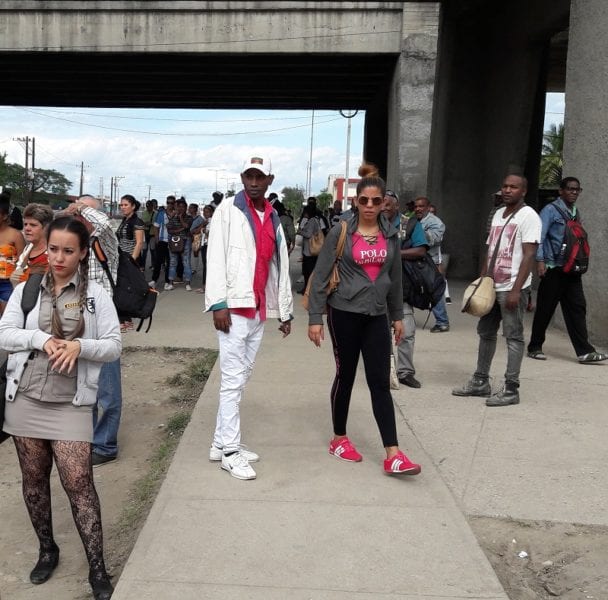 HAVANA TIMES – On the government's nightly TV show Mesa Redonda, (The Round Table) several officials have been "following" the national transport issue. Sitting comfortably in their seats and confident that they speak nothing but the truth, they explain how the new measures that regulate the "experiment" to "structure" private taxi drivers' work will be implemented.
Meanwhile, on the street, taxi drivers have decided to drive around the city without picking passengers up. This way their cars won't be confiscated, people are saying. When the Government found out about the announced strike, they threatened many of them forcing them to go out. When you ask any botero (private taxi driver) upfront, they don't say the word "strike".
There are times it's obvious that they are lying, but there are other times when they really have no idea. "Strike?" a 60-year-old man said who was driving a blue Chevrolet, "Are you crazy? You can't do that here." There was no malice on his face, just firm conviction.
The result? Absolute chaos on Havana's streets.
On December 7th, when the strike began and when this series of measures were implemented, it seemed that there weren't any problems. Nobody knows where they came from, but numerous buses started covering different routes in the capital. However, we don't know where they disappeared to a few days later either, because now there are very few and they are packed.
Today, Curita taxi park, where taxis would begin their journeys to different points in the city, is almost deserted. Catching "something" on the bridge at 100th and Boyeros streets is a miracle. Or on 23rd street. Or trying to get to Vedado from anywhere along Neptuno street in Central Havana, and so on.
Returning to Alamar after work or school has become an odyssey that involves taking different routes. Some people make their way to Vedado, where the first stop of the P11 urban bus and ruteros (smaller buses which substitute taxis at a lower price) can be found. Others insist on making their way to Alamar from downtown Havana which can involve hours spent trying to catch a bus because they don't stop at the stops, people push and shove to get on and off them.
You would think that only a few people resorted to traveling by collective taxi every day, as a trip from Havana to Alamar costs 20 Cuban pesos; but that's not the case. And today's chaos proves it. To tell you the truth, private taxi drivers have every right to hold a strike and defend their interests. However, it hasn't gone down very well with people on the street.
It's 3 PM. A woman reaches the back of the Marti Theater, where a crowd waits in absolute despair. Old Chevrolets pass them by and don't even look at the crowd. Some people make signs, others stand in the middle of the street to force them to stop, and many of them resign themselves to a more passive wait. The clueless woman asks: "What's going on? Why aren't they picking anyone up if that's their job? I've been trying to get to the Naval Hospital for two hours now."
As noone answers her, I pluck up the courage and tell her that this is a protest because of the new regulations that the government has implemented for private taxi drivers. The woman, astonished, rests her big bag of pots of food on the sidewalk. She knows that "this is going to take a while".
Suddenly, others turn towards me, waiting for me to explain: "What do you mean protest?"
I overcome my shyness and tell them the story, more or less. People continue to try and hunt a taxi down saying things like:
"They don't have a heart, why pass by like that? Ignoring everyone…"
"My son hasn't managed to get to class early in a week."
"This is a joke, it's already giving me a headache. Let's see what we can get on because these pricks won't stop."
"Come on man, I'll pay whatever you ask," one person said flashing a big note and nearly falling on top of the taxi.
And this went on for over an hour. Until a red Plymouth finally stopped. Braking sharply and noisily, the driver frowning and in a bad mood shouts out: "3 big ones (CUC=USD) otherwise there's no journey."
The crowd that had gathered slowly withdrew.
The woman left her bag on the sidewalk and approached him: "Do you think you're really hurting the government like this? They have their own cars and don't depend on this service. The only people you're hurting are us ordinary Cubans."
The driver: "I don't care, I just can't be the one to get screwed over. Whatever, I'm leaving, this is why we can't stop…"
The woman: "But, you're wasting fuel, you're losing out. Is picking up people who are willing to pay you such a big deal? And why so much money if it's the same route as always?"
The red Plymouth sped up and left. Not even the ones willing to pay 3 CUC (75 regular pesos) for a 20-minute trip could get in.