Opening Night & the Royal Ballet
By Irina Echarry
On Tuesday, July 14, I headed off filled with emotion for the García Lorca Theater.  At 8:30 p.m. the first performance of the Royal Ballet was set to begin, an event eagerly awaited by many Cubans because – in addition to the quality of the company – within it dances Carlos Acosta, a world-recognized dancer from our island.
I had no real hope of actually getting into the theater.  Seats had been sold out several days in advance, and scalped tickets were going for $25 (USD), which is equal to about 625 regular pesos – or six weeks take-home pay.  But someone had had a great idea: the theater was going to project the performance onto an improvised screen set up in front of the massive staircase of the adjacent Capitol Building.
In addition to seeing the projected performance, I was going to chronicle people's impressions, the atmosphere, comments, etc. forHavana Times.
The website's photographer, Caridad, accompanied me; though she too had no hopes of getting in, and was even a little discouraged.
People were entering in groups and alone when suddenly Alicia Alonso appeared.  Caridad knew that this was the moment to cut in line to take shots of the former prima ballerina – and cut she did.
A man who had been looking insistently at us ever since we arrived noticed the photographer's absence and commented to an attendant: "A woman with a big camera went in around this corner; I saw her. If you want, I can go in and look for her."
The custodian thanked him for the gesture, but said he was busy working and couldn't leave the door.
The man immediately came up to me and said abruptly, "I'm going to get her out of there; nobody plays games with me…"
At that moment I understood the meaning of his anxious looks.
Even after they closed the theater doors the guy kept carping.  Thanks to him they had already kicked out some boy in a plaid shirt, but this wasn't enough: the guy wanted them to boot out the woman with the camera too.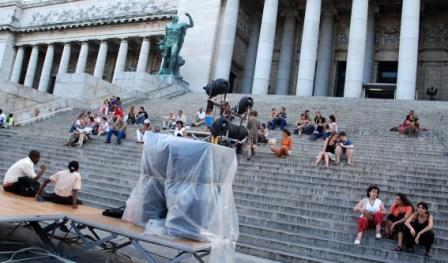 The fellow made such a racket that a police officer came up to us.  I should add that there were several police on the block, picking up everybody they caught scalping tickets.  It's true that people take advantage of anything to cheat others out of a few pesos, but this was a ballet performance; the buyers (those who could afford it) only wanted to pay to see the show.
The policeman attempted a talk with my pursuer, and after searching my purse he realized that I wasn't any problem – I didn't even have tickets for sale.  He simply tried to convince the man to leave me alone.
I finally walked away toward the screen in front of the Capitolio building but, to cap it off, someone had decided not to project anything, as if the public who had waited for hours all afternoon was not entitled to enjoy something that had been publicized for days, not even an explanation.  I went back to the theater to look for a reason, but the only thing that I found was that man griping (still).
I saw that nobody was paying him any attention, and I was afraid of doing something that was beneath me.  I'm not vengeful, but I must admit that this gentleman rubbed me the wrong way.  So I drew closer to him and whispered softly, "They cut in line!" and walked away.
The street was dark, and Central Havana at night is not the most pleasant place for a woman alone, but since I had some of Caridad's belongings I had to wait.
I waited for two hours, until – finally – she came out with the photos for the readers of Havana Times to enjoy.  See: "Royal Ballet Cuba Pics"