Sweet Fifteen in Cuba: A Dizzying Merry-Go-Round
Irina Echarry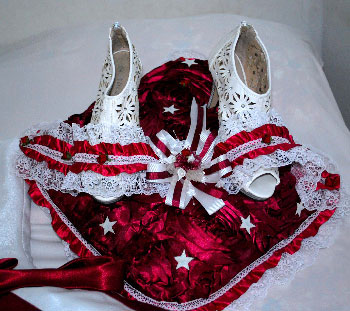 HAVANA TIMES — Turning fifteen stirs up conflicting emotions in Cuban teenagers. Every young girl knows that her family will throw her a party no matter what the cost, even if this family, as is most often the case, doesn't have the financial means to do so. The parents, for their part, look at the festivities as an obligation, for their daughter "is not beneath the rest."
This coming-of-age celebration entails joy and frustration, festiveness and anxiety, competition and submission. All of this comes as though in pre-prepared doses: each of the people involved get a certain quota of enjoyment and misfortune.
Yanela turns fifteen at the end of August, but she booked her photo session months ago. The studio is far from her home, the prices are very high and she would have been happy with run-of-the-mill pictures of her in her new clothes (every new set of clothes, with shoes, costs at least 60 CUC). Despite all this, this is what she says to me: "Have you come across a single girl who turns fifteen and doesn't get at least one picture wearing a fancy dress?"
To get that picture, her parents must purchase a full package that includes the long dresses (which recall the young women of the 19th century) and the photos (some taken in the studio and some in exteriors). The album, as it was once called, has been gradually modernized: nowadays, it consists of a photo-album, a CD with the photographs and, most of the time, a DVD with a video montage of the shoot.
Curiously enough, Yanela doesn't want the video, and her family won't have to spend the 50 CUC it costs. They will only have to pay 390 CUC for the photo package. Yanela doesn't want a party either. Until a few days ago, her plan for this most holy of birthdays was to go out to eat with her closest friends (this is what her friends have done). She had saved up 50 CUC for this.
But plans have a habit of changing, interests vary, trends impose themselves. Now she wants a mobile phone (all of her friends have one) and wishes to spend her birthday at a swimming pool (with her classmates, of course). And there's not enough money for that.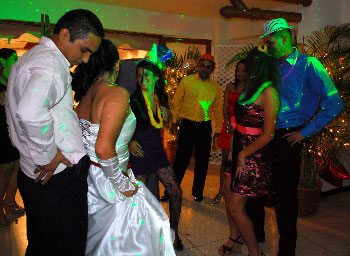 Trends are like a wild merry-go-round that seduces us with its dazzling colors. When we get on, we cease to be ourselves and become docile consumers. The more we spin around in the merry-go-around, the more individuality we lose, the more frustrated we become and the less interested we become in ever getting off.
A girl's fifteenth birthday, and the industry that has developed around this celebration, are a veritable financial burden on most Cuban families. Despite this, no family wants to be left without the "memories" of the child.
It doesn't matter what the costs are, these families are willing to take on any sacrifice. If one has to work financial miracles to put the money together, then let's get cracking. If one has to borrow a friend's car and use it as a cab on weekends, sell croquettes or milkshakes, raise pigs in a tiny apartment in Centro Habana, hustle, spend years in a hospital looking after the ill, whatever, then so be it.
Many people who have relatives living abroad get the money they need without having to work so hard. As for me, I still remember how much my mother suffered when 500 CUC were spent on her granddaughter's party, clothes and photo session.
Why did my mother feel this way? Because her granddaughter's house, like ours, is practically falling down. There was no sink or fridge and many faucets were plugged up. However, when grandma speaks about her granddaughter in her fancy dress, you can see a twinkle in her dark eyes.
It doesn't matter how ridiculous the situation is. Very few people notice that the ceremony – with the possible exception of the ballroom waltz that has been resurrected on the island – creates an image that is completely false. Better said, most people like the photos to be artificial, to "improve" the look of the teenager. This "improvement" is achieved through a uniform process. All fifteen-year-olds you see in these photos look alike, or, at least, project the same image: that they are aggressive, sexual beings, sure of their beauty.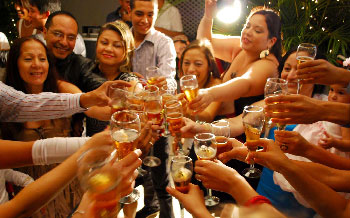 I don't want fifteen-year-olds to become depressed over the fleetingness of youth and physical beauty, I don't want to rain on anyone's parade. I am only a little put off by the make-up that grown-ups (people who are aware of these facts) cover their faces with, and the look they choose for these girls, depriving them of the naivety and the surprise that becoming an adult can entail.
When I say "grown-ups", I am referring to mothers, fathers, neighbors, photographers, make-up people, publicists and a long list of other people. When I speak of make-up, I am touching on only one aspect of this. I could speak about the clothes, the poses and other elements that make this a very complex phenomenon.
Just as we're unable to determine which horse goes in front of the other in the merry-go-round, so are we unable to discern who establishes a trend and who adopts it. In the end, it is part of a single, circular process: trend-business-customer-trend.
Now, I hear teenage boys are celebrating their fifteenth birthdays with shoots at photo studios. Their photos are then inserted into the cover page of the famous magazine they choose – nothing is beyond Photoshop.
There, they will show off their designer clothes, expose their brawny arms and strike an aggressive pose, like men full of self-confidence eager to take on the world. Like the girls, they will reproduce the stereotypes of the prevailing trends. And so, some more eagerly than others, we will continue to get on that multi-colored merry-go-round.