Irina Pino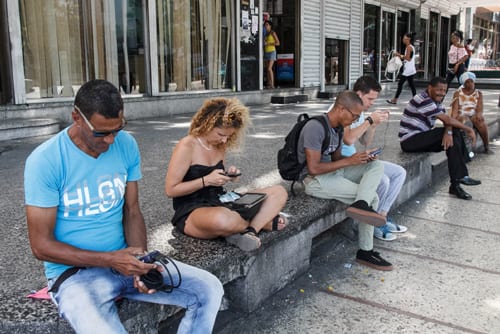 HAVANA TIMES — I hope Wi-Fi services last in Cuba. It's been a phenomenal idea to set up these networks, and it's both curious and humorous to see people congregate to download information and videos and to chat with relatives and friends. Though it comes at the cost of having no real privacy, it's what we have for the time being.
The best thing would be to set up these networks in all neighborhoods. This way, we would avoid the ridiculous situation of having so many people gather in the same spot. On 23rd street, north and south on La Rampa, you see long lines of people connecting to the Internet, all of them happy, as though they had a new toy. In a sense, information is a new toy to them!
A good friend of mine told me to take my cell phone there, and we bought a card at 3 CUC, one CUC above the actual cost. We didn't really have a choice: the lines of people outside the ETECSA offices are huge and resellers are proliferating and making a buck off this.
Setting aside my technological illiteracy, we accessed the much-longed-for Internet and logged on to Facebook to see who we could find. Friends lost to the mists of time suddenly emerged to greet us. I came across Helena, a primary school friend who then felt the calling to become a nun and who, to my surprise, had published semi-nude photos of herself. She's become a more open-minded (and even bisexual) woman. It made me laugh to see the changes experienced by a person who was so repressed in childhood, and I was also happy to know how she was doing.
Marcos, an old boyfriend of mine who loved sports and took care of his body (always keeping an eye on his weight) currently raises pigs on a farm in the southern United States. He lives with his wife and three children, and is both fat and bald. Today, his hobbies are drinking beer and talking about baseball.
Rita, a beautiful mulatto woman who worked with me at the TV station, had two weddings and a funeral – almost like the English comedy. She fell in love with a well-to-do Spanish man, they got married and everything was going very well, but, six months later, the man died of a heart attack. The man's family helped her return to Cuba. She went through a depression, but, a short time later, met a man from Argentina. They got married and have a seven-year-old son. They live in Rosario, where they run a bar and organize tango competitions.
People publish all sorts of things: personal photos, pictures of places, videos that have made an impression on them, bits of memory, a part of themselves they want to share with others. One sees borders disappear and silences dissipate the ability to cross over to the other side, at least for an hour.
Let's hope the price of cards goes down and our access to the Internet broadens.