Irina Pino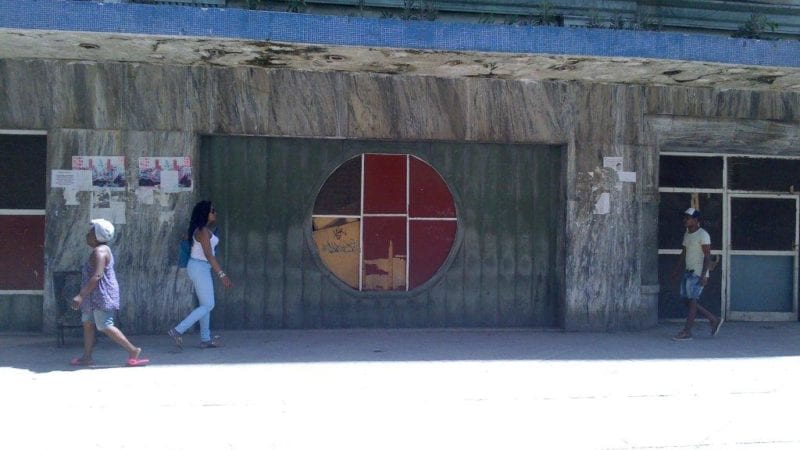 HAVANA TIMES — The wretched state of the Rex Cinema, on San Rafael Boulevard in downtown  Havana, doesn't stop me from seeing it and what it once was, with super comfortable seats and excellent air conditioning.
Now it inevitably rots, maybe some foreign investor will buy it and remodel it. It would be a shame if they made it into something else. Nowadays, going to a cinema here is to suffer from heat, as they switch off the air conditioning a short time after the show has started.
The Rex Cinema brings memories of three friends: Marcos, Ana Maria and I, when we used to go there. I can still remember vividly when we used to escape from school when we used to have two maths classes in a row. We hated that subject like the "Devil hates the Cross".
So, we used to make up some excuse to get away from the group and then we would leave via the back gate, where the library used to be. Climbing and jumping over the fence was something you had to do in a second. You could see Presidents Avenue a lot better then, it was heavily shaded and without any statues.
Our excursions, most of the time, excluded Vedado so as to avoid the unpleasant running in to people we knew. And with just enough money, which our parents used to give us, we'd catch a bus to Central Havana and have a snack at Cafeteria America, some delicious sweets, juices and fruit yoghurts. Later, we'd walk along San Rafael Boulevard where we would end up watching a film at the Rex Cinema, which opened early.
In the half empty room, my friends, who were going out at the time, kissed each other and embarked on their first sexual encounters, masturbating one another, while "The Black Tulip" with Alain Delon was being screened, or "Vikings" with Tony Curtis and Kirk Douglas. Far from the plot being unravelled on the screen, they focussed on pleasuring one another.
I used to sit alone, far from the row they were sat in, and watched the film with interest as I felt like I was a movie buff back then; at times, they would interrupt my enjoyment with their moaning and suffocated cries, but I managed to disengage.
On one of those trips, Ana Maria didn't go because she was sick at home with some kind of virus, so it was just us Marcos and I, and even though we didnit really feel like going to the cinema that day, we did because they were showing "Indiana Jones and the Temple of Doom", which we hadn't seen yet.
We sat together and had hardly said a word to each other, when in the middle of the feature film, he moved closer to whisper in my ear – the darkness favorable for any kind of confession – and this is what he said: When Ana touches me, I think about you and I cum quickly.