By Irina Pino
HAVANA TIMES – I don't know if it's because I never had a daughter, or because my own son, now older, complained that I hadn't given him a brother. What happens is that he often brings a girl home, who I really like, and they stay together until the next day. Which is a good event, and it gives me a lot of joy.
This young lady is not ordinary, she is charming, and she behaves naturally. Her name is Melissa, like the character in the Woody Allen movie. But unlike that character, she has dark hair and eyes. She is very thin, but since she often wears baggy jeans, you don't really notice it.
When she is visiting, I get in gear, I am happy to assist them. The first thing I do is make them tea and toast. A gesture that is always appreciated with a thank you and a bright smile.
I also enjoy to make them food or help them with whatever they need. The only thing that interests me is that the young woman feels comfortable.
I keep in my memory how bad I had it with the mothers-in-law I had over time. None of them became friends with me.
In my youth, there was one who was terrible, she barely let me be intimate with her son. Every day, when I returned from work, she would almost force me to do some housework in her apartment. She totally controlled him, and in the end he even turned him against me. It was a disastrous relationship that never worked.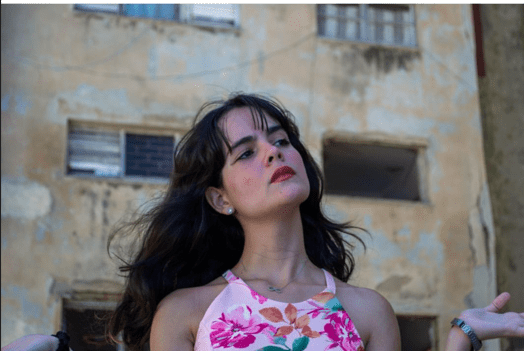 I miss Melissa when several days go by and she hasn't come; I ask my son why? It bothers me that my son gives me the runaround. He answers that she is not his girlfriend, just a friend of his. Well, he doesn't want to commit to anyone at the moment. His freedom is more important to him. However, I notice that since he has known her, he has not brought another young woman home, only her.
There is a connection between the two, that is evident. They spend hours locked in the room, talking, watching movies and videos. They are both lovers of the Japanese Manga series; also of the Korean quartets, like BTS. She loves the Korean language; she has even been studying it.
Sometimes, from outside, I hear her singing. I had forgotten to tell you that Melissa studies singing. She fills everything with her beautiful soprano voice. Although in the same way, she can change it to a lower tone.
The last time she was here, we became closer. We talked about music, and how her mother marked her musical taste from a young age. That was after I heard her singing Total Eclipse of the Heart by Bonnie Tyler. It also came up how she is preparing to take the entrance exams held by the Higher Institute of Art (ISA). It is unusual that she has chosen a repertoire of medieval music.
We don't stop chatting. Everything revolved around music, including the divas of Bel canto, Maria Callas and Cecilia Bartoli. My favorite, and hers too.
Melissa's voice reminds me of the magnificent Loreena McKennitt. So I thought I would recommend her songs to her. Precisely, I used this lady's music in my video Dying, sleeping, maybe dream, from the Colon Cemetery, published here on HT.
This girl is not brainless at all, it is clear that she is ambitious in her projects. She posts photos on Instagram and has posted her music videos on YouTube. I finished watching one of them and I really liked it. Additionally, she writes the lyrics to her songs, but in English. Most of the harmonies are pop-rock. Others have a clear gothic rock influence. At first, she had an arranger, who composed for her digitally. Until recently she put together a band. This month she will have her debut at Bar Fellini.
It is evident that, since she loves to write, she also needs to be nourished by poetry. That's why it makes me happy that to motivate her to read poems. I gave him two of my poetry books. I hope they are of some use to her. At least, to know the intimate universe within which they were created.