The Lie that Led to My Calling
Irina Pino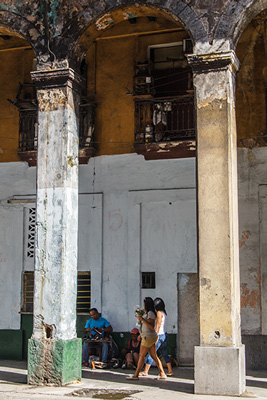 HAVANA TIMES – While I was studying at the Technical Institute for Hotel and Tourism Services, a terrible accusation was leveled at me: I was accused me of being a prostitute – and not just any prostitute, but one who sold their favors to foreigners.
That was a devastating lie for a young girl of 21 to cope with, and led to my requesting to leave that school. This in turn brought on a time of depression, as I dealt with the hatred and similar negative feelings of those supposed "educators" who had contributed to my desertion.
The truth was all too simple to believe it. I had befriended a foreigner residing in Cuba, who frequented the Hotel Vedado where I was doing my training.
They wanted me to take some medical exams to determine if I had any type of sexually transmitted disease. That was the culmination of that infamy. Obviously I didn't want to continue in that school.
During the 1980s there were so many restrictions. A woman who had a relationship with foreigners was immediately classified as a prostitute, Cubans couldn't enter hard currency stores and possessing dollars was illegal.
There followed a chain of incomprehension on the part of my parents, who didn't believe my story either. I became a timid and introspective person, who was at the same time easy to deceive.
But in the midst of such a difficult setback in this stage of my existence, there was someone who approached me and opened me up to a wondrous slice of this life: to enjoy literature, and to go out in search of words to shape with my own hands.
I began to write a diary; poetry flooded into my cracks; and those scabs began to heal – although never closing completely. I had written in some measure since I was 14, but now the enticement of writing intensified until it formed a part of my being, like an extension of myself. From that time on I never stopped.
I followed that "winding road" without looking back.
Now, in this reflection looking back, I can see that I never could have been a good restaurant employee: not because I wish to disparage that worthy form of work, but in the sense that I wasn't made to carry the "empty tray". Instead, I have this sublime curse. I now understand that words are the kingdom where I can best reign, because we are all made for something, each of us has a mission in this world.
Perhaps journalism will offer me some monetary reward and I don't doubt that it also may offer me great joy and bridges of friendship. But what I'm most certain of is that I won't abandon writing for other freedoms.
Real liberty lies in words: to them I am in debt, and before them I bow down and promise to be true to the act of writing as the best alchemy for expressing ideas and feelings that may be useful for others.