Two Trips to Alamar, Havana
Irina Pino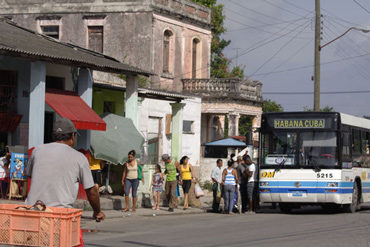 HAVANA TIMES — A get-together with friends is always an interesting encounter, a context in which feedback flows and spiritual mingling makes us better people. The hours pass and one barely notices it.
Several months ago, my friend Veronica organized such a get-together. That morning, I headed to the iron bridge in Vedado to catch the P3 bus bound for Alamar, where Veronica lives with her husband (a painter) and her son Kabir, both of whom contribute for Havana Times.
The bus arrived a half hour later and the passengers boarded. On the way, more people got on the bus, making it very uncomfortable inside. I could barely move on the seat. The surroundings lost their charm and became disagreeable sights: Guanabacoa, San Miguel del Padron, 10 de Octubre and other of Havana's peripheral municipalities become a landscape where one could almost touch people's misery. Dirty and dilapidated streets, filth-covered buildings, impoverished people – even the vegetation lacked color. They were like the pages of a book that has yellowed and been gnawed away by moths. This adventure lasted an hour and forty minutes. My body was numb by the end of it.
The evening was pleasant. We shared our thoughts, writings and films. My friend's seven cats and dog surrounded us, offering us their tenderness.
Getting back home was a bothersome and maddening experience. Inside the bus, a homeless alcoholic vomited on the floor. The other passengers didn't even budge. Everyone remained immersed in their own affairs. It took me about two hours to get home.
Last Sunday, I took my second trip to the far-off shire, as they were having another get-together. This time around, however, everything was easier. I decided to catch a cab to the Capitolio from Miramar. There, I caught another cab, the ones that carry many passengers. I had to wait patiently for the cab to fill up with passengers.
When all the seats were finally occupied (some people were carrying enormous bundles, egg cartons, plastic buckets and other items), we departed.
This time around, we made the trip heading down an avenue next to the sea, crossing Villa Panamericana and La Habana del Este to finally reach Alamar. The only unsavory thing were the reggaeton music videos they played at top volume, which showed grotesque images of Cuban strippers. That said, the trip was fairly short.
I wasn't particularly surprised to see heaps of garbage at every corner, garbage bins overflowing with filth and people wholly indifferent to this.
One could feel the good vibration at Veronica's apartment. We had pleasant conversations and everyone read their works.
This last trip involved catching four cabs (for a total of 40 pesos) in a single day, instead of taking the horrendous P3 I used to get there the first time, which cost me a mere 80 cents round trip. The peace that spending money on these things affords is important. The time one wastes on Cuban buses is irrecoverable.
I hope they build a subway in Havana one day, for these long journeys.