Another Gay Film Made in Cuba
Isbel Diaz Torres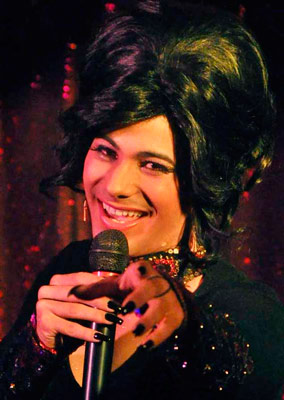 HAVANA TIMES – A new local film titled "Fatima, or Fraternity Park" ("Fatima o el Parque de la Fraternidad") is about to be released in Cuban theaters, a new addition to the shy list of Cuban films dealing with gay issues.
Renowned actor and director Jorge Perugorria (who played a homosexual intellectual in Tomas Gutierrez Alea's unforgettable "Strawberry and Chocolate") is the director of this new feature, based on the story "Fatima" by writer and government official Miguel Barnet.
The star-studded cast includes Cuban actors Broselianda Hernandez, Nestor Jimenez, Mirta Ibarra and the highly talented Carlos Enrique Almirante, who plays the lead Fatima, an angst-ridden transvestite.
I hadn't heard anything particularly interesting about the film until a few days ago, when I read an interview with Barnet conducted by Arleen Rodriguez and published on the Cuban webpage Cubadebate.
In the article, both the interviewee and interviewer try to convince us that "Fatima" is not another "gay" movie. To do this, the journalist begins her interview asking directly about that one point.
"Not at all," Barnet declared. According to Rodriguez, the writer replied promptly and categorically.
Is there any particular interest in not presenting the movie as a gay film? How many gay films have been made in Cuba? What are they afraid of?
Though I am not a defender of such superficial labels, I don't tend to get angry over them either. I would have liked to have seen Barnet use this popular expression and, rather than sweep it under the carpet, enrich it somehow – something along the lines of: "Yes, it's a gay film, and, in addition, it's also this and that." That would have been a more coherent answer.
Barnet, however, stresses that "it is not a film or musical about transvestites," and "this is not a film that deals with the gay issue in a superficial or frivolous manner." Later on, however, he contradicts himself.
"There'll be brief flashes of transvestitism, there'll be drama, there'll be music", "these characters (….) endure one of the most terrible dramas one can go through: not wanting to be the way they are", "wanting to be different and never being able to reach that goal," "wanting to be women" and the lead "has a relationship with a man."
Well, if these issues don't make this a gay film, then director Pedro Almodovar should come over from Spain and explain it to me!
I also don't understand the need to explain that the actors who play homosexual men (Perrugoria, Almirante) are actually heterosexual. Why clarify this? When homosexual actors play heterosexual men, is that detail touched on in interviews? Is it necessary to point out, for instance, that actors who play zombies aren't actually dead and don't really eat people?
I know it's hard to shed the homophobic attitudes that gnaw at us (including members of the gay community). This is why it is always important to point them out whenever they rear their ugly heads.
I also don't think it right that Barnet should refer to those who cross dress as "unfinished, imperfect people who suffer greatly because they lead mutilated, incomplete lives." I feel this only contributes to the stereotypes about these identities.
Nevertheless, I respect his right, as a writer and artist, to freely express his view on the issue.
To conclude, let's just hope that Perugorria does a better job in "Fatima o el Parque de la Fraternidad" than he did in "Se Vende" ("For Sale") and his other attempts at directing. I believe the story deserves it.