Silvio Rodriguez Sings for May Day On My Block
Isbel Díaz Torres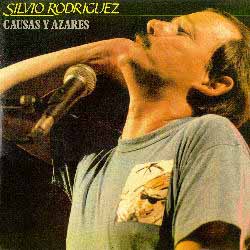 HAVANA TIMES – I get the feeling this May Day will be different. The loudspeakers at Revolution Square are already being tested and, like every year, Silvio Rodriguez' songs are starting to be heard.
This time around, however, for reasons unknown, the sound technician in charge has been playing a particularly beautiful piece by Silvio Rodriguez time and time again, a melancholic and profound song that has nothing to do with the carnival spirit of these rallies. The song is "En mi calle" (On my block) from his album "Causas y Azares" 1986 (Causes and happenstances).
My block has a gray sidewalk
that captures the gazes
of those who look where they're going.
On my block there's a bench
that's as long and white
as the marble where we'll end up.
The song is certainly not Sueño de una noche de verano ("A Summer's Night Dream"), or El Necio ("The Fool"), or Fusil contra fusil ("Rifle Against Rifle"), highly valuable pieces, but it casts a piercing look at that hurtful reality that, coupled with many other problems, condemns Cubans to staying in the country and resigning themselves to their fate.
Silvio Rodriguez' song continues to seep in through my flimsy, cardboard false roof:
I don't know why they're so high,
the white windows facing the sky.
On my block, the world keeps quiet,
people look at one another, and pass each other in fear.
How well the song captures the repression and self-repression one may have experienced in a typical Cuban neighborhood in the 1980s, under the watchful gaze of the Committee for the Defense of the Revolution (CDR). At the time, censorship was so powerful that people were even afraid of their own thoughts.
If I didn't live in the city,
I would perhaps see the dirty tree
where I use to play.
On my block of silence, it is there
and it passed by my side,
it is a singular memory.
What could any of this have to do with this post-December-17 May Day?
Silvio Rodriguez ends his song with a question that I fear he never did manage to answer. Had he managed to, he might not be in the strange place he inhabits today, caught between the genius, beauty and profundness of thought and a schizophrenic fidelity to a state of things he was able to name, describe and criticize well.
I don't know why I'm looking,
why I'm singing,
why I'm living.
I don't know why I'm crying,
why I'm loving,
why I'm dying.
If it wasn't done on precise instructions, the sound technician at the Square could well have played the piece that comes next on the album, nothing less than Te convido a creerme cuando digo futuro ("I Ask That You Believe Me When I Speak of the Future").
But no, the melancholic piano of En mi calle starts again, hammering into us the sad certainty of an abandoned and tired project, redirected towards its own opposite.
Strange, isn't it?