Young Environmentalists Meet in Cuba
Isbel Diaz Torres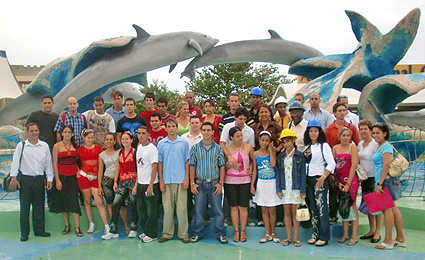 Recently I was invited to an event that promised to be productive.  Young Cuban environmentalists and representatives of non-governmental organizations (NGOs) met to try to coordinate actions in support of nature in our country.
I said we tried because I'm not very sure we achieved all of our objectives.  Nonetheless, it was an interesting experience.  State institutionalism doesn't always enter into dialogue with true social actors, but when such a circumstance occurs we should take advantage of the opportunity.
In the event, we interacted compelled by the spirit of identifying environmental problems and of forming a true network.  Students, science professionals, ecological activists and professors agreed on the need to coordinate our actions to make them more effective.
Speaking in the opening session was Angel Valdes, the president of ProNATURALEZA.  This environmentalist NGO, with more than 2,500 associates across the whole country, was the co-sponsor of the event.  Also participating in that session was Orlando Rey, a senior official with the Ministry of Science Technology and the Environment.
During the dialogue, guiding documents such as the "National Environmental Strategy," and "The Environment Law" were questioned by some of those people in attendance.  Rey responded to tough questions formulated by the audience, but I didn't find his answers convincing.  In my assessment, the required actions spelled out in those documents are hardly ever carried out in reality.
Other members and leaders of NGOs participated along with youth several times during the day and exhibited some of their work.  Nonetheless, I didn't leave with a clear understanding of how we could work as a group in the future, something that should have been defined there.
Being able to meet youth leaders from across a large part of the country was one of the unquestionable values of the event for me.  I think that promoting an environmentally responsible citizenry is a challenge that concerns us all, especially the youth.
Still, when it was difficult to obtain concrete results, the desire for "direct action" was evident in the experiences presented.  That's why I think this encounter between groups of young environmentalists is a possible platform for such action.  Let's hope we know how to take advantage of it.