A Kid in France that Could Be Confused…
Jorge Milanes Despaigne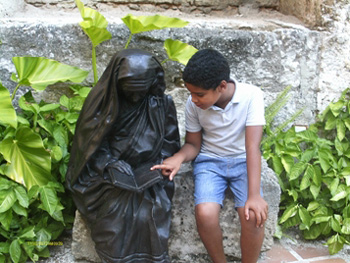 HAVANA TIMES — My whole family is worried about the recent terrorist attacks in France.
Twenty years ago, my sister married a man of Gallic origin and lives in France with my three nephews (the twin sisters Yeica and Yennife and the younger of the three, Julian), with whom she came to visit us in 2014.
Julian is now 11 years old and during his most recent visit I was able to confirm something I'd noticed before: because of the color of his skin and his physique, he resembles an Arab a lot.
One time we went out in Havana and I asked him if there were other foreigners at his school. He said there were. When I asked him what nationality those other kids were, he told me there were kids from across the world and many Arabs. "Are there any Cubans?" I asked him. "Yes, just one: me," he replied jokingly, with a French accent.
After the attack on the satirical French magazine Charlie Hebdo, my sister phoned us and, among other things, we spoke of the kid. I asked her how he was doing and she said that he was very well but that she, her grandparents and sisters were very worried over how much like an Arab the child looks. "To avoid misunderstandings, we don't ever take our eyes off him," she added.
She told me that the kid's father decided to take him to school every day and leave him in the hands of the teacher personally. He also picks him up after school and whenever he has soccer practice.
"Sebastian feels that I shouldn't pick up the kid, because, since I'm Cuban, the terrorists could take reprisals and things could get complicated. So, he takes the kid everywhere."
"It's difficult for me and for him, because I've always been the one who's taken him to school, so it's hard to explain the situation…he both understands and doesn't understand the change. You know how smart he is," my sister concludes.
My nephew has shared a classroom with kids from other countries since the first grade. They are friends, blind to color, religion or ways of thinking, so the parents have a hard time explaining to him what's going on and the reasons behind this change in routine, particularly during these dangerous times.
I'll have a chance to ask him in person how he's doing the next time he comes to visit us.