A Peso for a Tart: On Cuba's Elderly
Jorge Milanes Despaigne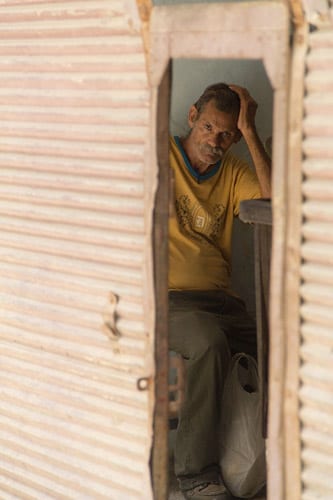 HAVANA TIMES — The silver-haired woman slowly nears the entrance to the coffee shop. A fine mesh of wrinkles cover her face, her old garments, thrown carelessly on, are creased.
She holds a bag and cane in one hand and looks for something with the other, but can't find it. She can't find two pesos to buy a tart with.
The bag becomes her last hope. She puts it close to her face and sticks her hand inside, pulling out a cracked leather coin purse. She rifles through its contents insistently. Her quivering hand finds old buttons, stamps, hair pins and receipts, all of which she lays on the counter.
Her shaking and desperation swell. There's nothing there. She collects her things. Before she was done, I'd understood the situation clearly. I'd been in a similar situation before. "Look, m'am, buy yourself two tarts," I say, handing her 4 pesos.
Her frail hand takes the money. She looks at me and says: "Thank you."
Somewhat embarrassed, she asks for the tarts. She now has the money to pay for them. "One tart, please," she says with a quivering, fading voice.
"Thanks, son. Very few people help others these days. They turn their backs, not knowing they could be in the same situation one day."
I am moved by this all-too-common situation I run into in Havana, where elderly people go around the city unable to buy even a sweet, the only thing they can afford most times.
Some neighborhoods have soup kitchens where they can have breakfast and lunch, at very low prices. But we can't simply forget about those who live alone and go out in search of a simple sweet or any kind of food, and those who have even lost their sense of direction because of their advanced age. These situations are worthy of attention.