Alamar: Havana's Largest Commuter Suburb
Jorge Milanes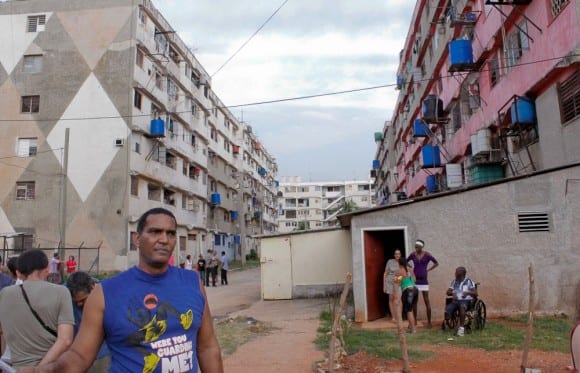 HAVANA TIMES – In the '70s, the Cuban government made the decision to build multi-family residential dwellings in the town of Alamar, to the east of Havana, in response to the capital's serious housing shortage.
During that long-term building project, and in order to satisfy some of the new residents' spiritual needs, a budget was allocated to build leisure and cultural centers. Extremely valid proposals, but they would have been more effective if they had kept a more fitting urban design in mind.
The apartment buildings, markets and leisure centers were built in numbered areas but without any logical divisions, leaving to a difficult path for urban transport.
However, there weren't any "problems" at that time because many resources were made available thanks to help from COMECON (Council for Mutual Economic Assistance), an organization that was made up of Europe's socialist nations at the time, who paid the bill for mistakes made.
All of this aid collapsed at the beginning of '90s when the Soviet Bloc collapsed in Eastern Europe, which is when Alamar's real problems were revealed. Let me explain.
A combination of a lack of materials and financial resources, urban chaos and shortages put the continuity of that extremely important project into crisis, and a solution still hasn't been found even today.
On the one hand, there's the government's neglect with the transport system, if we bear in mind the town's population density and its constant growth, people are always suffering transport shortages as the majority work or travel to Havana proper to their workplaces and hospitals. While on the other hand, the absence or shortages of goods forces residents to travel elsewhere, to other parts of the Capital, to be able to meet their basic needs.
The disappearance of leisure and cultural centers ranks among the serious problems that residents now face, although they now have a new well-known cultural center: in Guayabera, a building that used to belong to a guayabera shirt factory and had been in ruin for many years, has now been renovated for this purpose. But, it isn't enough.
The movie theater, its large swimming pool, the Tina Modotti library with collections of important books, are all now in danger of disappearing as well as its two amphitheaters, they all cry out for renovation.
In addition to this, there is nothing in this town that makes it an important economic objective for the State, which allows the country's leaders to take a disinterested stance.
Meanwhile, the problems in the "bedroom or commuter town" of Alamar, with its almost 100,000 residents, continue to worsen.