Bottle Cap Scam Rocks on a Havana Bus
By Jorge Milanes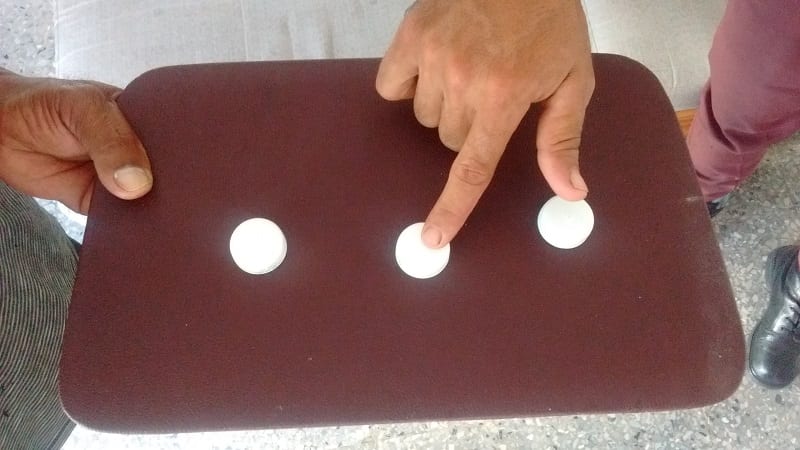 HAVANA TIMES – A few years ago, you could see people playing bottle caps secretly on certain streets in Havana.
Like every game of chance in Cuba, it is illegal and involves three bottle caps on top of a board and a small ball, which a person passes from one cap to another with a lot of skill and dexterity.
People who decide to play bet a sum of money. If they guess what cap the small ball ends up under at the end, they win the amount agreed at the beginning.
Today, on the P-3 urban bus, which travels from Alamar to Nuevo Vedado, I saw this game again. A group of men set it up, who came on the bus through different doors, and they walked through the bus to scout out possible players. One of them began, while his accomplices supported him, and then won of course.
Other people, who didn't form part of the group, attracted by those who were playing, ended up losing money, watches and even jewellery.
"How much have you got?" the guy with the bottle caps asked a man he already had in his sights, who immediately accepted the challenge.
"I've got 10 CUC and I'm sure I saw the ball here," he said covering the cap with his hand. "He's a magician," he said when he picked up the cap and saw that the ball wasn't there.
The most alarming case was of a woman who was seduced by them and decided to play, losing a gold ring and 100 CUC.
They have a great strategy and visual perception. They listen to passengers' opinions, they look at the way they dress, I would say they are very good at "sniffing them out", and that's how they win.
On that entertaining journey, an accomplice included me to help discover which bottle cap the ball was hiding under. But, I needed to show my wallet in order to do that, and they would give me the same amount of money I had if I won, but they weren't interested in my 1 CUC and so they tried their luck with someone else.
When you take out your wallet, they see how much and what kind of money you have to see whether they continue the game or not.
The group dispersed when a militaryman told them if they continued, he would order the bus driver to take them to the police station and they immediately got off one by one at each stop.
"I don't even trust the driver," the woman who lost the 100 CUC said looking at the militaryman.