Cuba's "ONAT" Tax Office: Whenever the Form Is Ready
By Jorge Milanes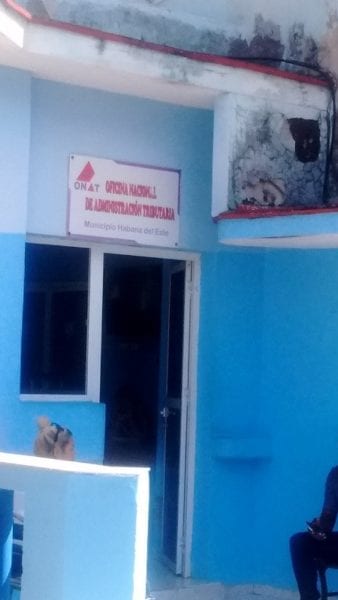 HAVANA TIMES – What will happen to us and the country if every document the population needs at state institutions continues to be insufficiently provided?
Recently, a colleague asked me to do her the favor of going and picking up the "Fiscal Vector" form that private businesses need to fill out for their sworn affidavit. The document is issued at the ONAT (National Tax Administration Office).
I picked a day to go and help out my colleague and arrived at this office for Habana del Este, at 8 AM, asking who was last in line. Luckily, the line wasn't very long at all. Just six people were ahead of me. "You, who just came, we're waiting," a man answered and then added a short while after: you have to put the private business owner's ID card on the table and they call you when the form is ready.
But, I'm not the business owner, it was the first time that I was doing this kind of paperwork and it was a favor. So, I approached the table and left my colleague's ID card on it, while the woman who was seeing to the general public, suggested that I take a seat and wait.
From my seat, I saw people coming and going and it seemed that they were able to get their paperwork sorted, at least from the look they had on their faces. In the meantime, I didn't hear them call out my name or my colleague's name.
At 11:30 AM, it was impossible to hide my restlessness any longer. "Miss, please, what's going on? Why aren't you handing out the Fiscal Vector form to the people asking for them?"
She asked me to wait a moment, and it seems she headed to the department where they print this kind of document.
"I live far away, I came early to be first in line, but I've spent all morning waiting for a form, it's unacceptable," the man who told me to put the ID card on the table said out loud. "Making us wait for ages without any explanation is also abuse," I added.
The employees were almost ready to go on their lunch break. It was noon and you could hear the clamor of bowls, common at this kind of institution. Finally, a young man came through the back door with a pile of forms in his hands, which he began to hand out. He apologized and explained that the delay was due to a technical problem with the printer.
Faced with similar situations, clients need to be informed about the problem because it's their choice whether they stay and wait or not. You don't expect a printer in an office like this to be out of ink, or that the printer is broken with the amount of money that comes in here.
It was almost 1 PM by the time I got a Fiscal Vector form and I then understood what the man meant in the beginning when he said: "when the forms are ready."