Jorge Milanes Despaigne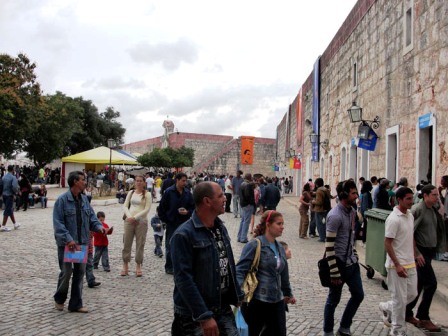 Together with a group of friends who were visiting Havana, I approached the colonial fortress of San Carlos de la Cabaña.  I told the others the story about how the king of Spain king went out with a telescope onto the balcony of his El Escorial palace, outside of Madrid, looking to see this mammoth work of construction erected to defend the capital from pirate attacks.
For many years the cañonazo (canon fire) ceremony has been a tradition there.  At 9:00 p.m. every night, no matter what the weather, a squad of militiamen dressed in uniforms of colonial times march in a reenactment of the former custom for signaling the city's curfew.
Many tourists come to see this attraction in which a century-old canon is fired precisely at the designated time.
At the ticket office, a sign indicates that the admission is 8 regular Cuban pesos for any time after 6:00 in the evening.  While I was paying for the tickets, I noticed a special offer for foreigners.  I don't know if people are familiar with the workings of the two currencies in Cuba, but I can attest to the fact that for only one 1 CUC [a unit of hard currency equivalent to 24 Cuban pesos], the visitor is entitled to admission plus a drink.
My friends and I filed on in.  Once inside, someone began to turn down the lighting as a brave soldier among the recruits sang the significance of the tradition, which was all done in a fairly theatrical manner.  Meanwhile the squad of soldiers, armed with their flintlocks, came closer to the canon marching to tense rhythm of a military snare drum.
We scrambled to a reach a place where we would be able to see the event, but we got there just a little late.  There were a lot of people gathered to see the spectacle.  Another attempt led us toward one side of the fortress where a stairway led up to a higher level.  However a man prevented us from going any farther.  He asked us for the ticket that permits, in addition to a drink, something that's not stated on the sign at the entrance.  "I'm sorry," he said, "without the ticket for one CUC, you can't go up into lookout area."
It turns out the extra CUC was on top of the normal entrance fee.