Jorge Milanes Despaigne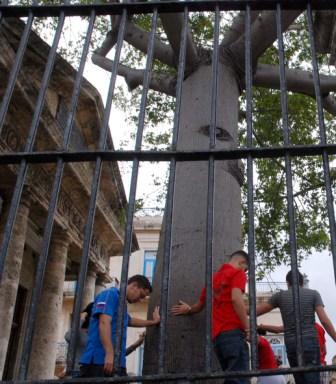 Early in the morning I was walking toward the Plaza de Armas, a place where on November 16 of every year, people form a long line so that each person can make a wish as they circle three times around the ceiba tree in front of the Templete, a monument to Havana's founding almost 500 years ago.  This is one of the customs with the deepest roots among Havana residents as well as with people who come here from other parts.
A person like me has never missed that appointment for celebrating the birthday of la Villa de San Cristóbal de La Habana.  But when I reached the Plaza de Armas, I was surprised.  The line, which this time went down O'Reilly Street, extended several blocks over to Mercaderes Street.
Standing there in the queue, I made the acquaintance of Maria Eugenia, an attractive woman in her 50's who has sat down on the Malecon seawall hundreds of times.   She recognizes that this city, which was so refined in her childhood, is gradually becoming overwhelmed with rudeness, filth and ruin.
Maria Eugenia hopes to make it to the short trunk of the tree with its enormous roots.  I found out that she is a widow and has two children who each draw well.  However, their teachers at school were frightened by their pictorial interpretation of the city: eaten away by a circle of mice.
I came to understand Maria Eugenia lives in a part of the Vedado district that is without roses.  It's an area that's full of the last rush of invaders into the former mansions that were carved up into what are now squalid apartments suffering from an avalanche of vulgarity.
I wanted to recount to her my story of refuge in the outlying area of Cojimar, where foam is born in front of the push of waves.  Its landscape resembles that of the wall that she's visited so often with her lost look.  Like Maria Eugenia, I deepened my focus on the landscape in front of me, forcing myself not to turn around, refusing to rediscover the wounds of the city.
I wanted to tell her more, but my turn finally came for going through the entryway into the Templete.  I had to close the book that I'd been reading, with the certainty that she is more than a literary character.