On the Origins of a Cuban Idiom
Jorge Milanes Despaigne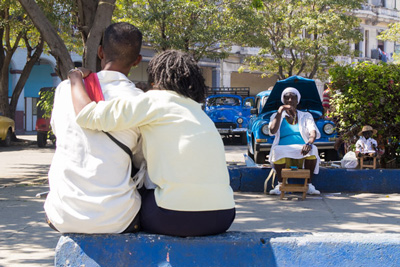 HAVANA TIMES — Many people in Cuba dislike the popular frase echar un palo ("to throw someone a stick"). In their view, this idiom – which all of us understand – is a rather vulgar way of referring to the sexual act.
Recently, I had a very pleasant chat with Paula, a cultural journalist, and we tried to get to the bottom of the said phrase. We ended up talking about the sexual idiosyncrasies of people in the Caribbean and those of Cubans in particular.
"The intermingling of Spanish, African, Chinese, French and other people who settled in Caribbean gave rise to a very sassy blend in all of these islands," she said sensually, sliding her hands over her shapely body before continuing.
"Many men and women here have sexual practices that are not accepted in other cultures. We're something of a jack-in-the-box, bold enough to "throw someone a stick" while swimming at the beach, to see if it floats, as the refrain of a very popular rumba goes," she concluded.
I was in stitches hearing her explain her points of view. Then, I asked her:
"Paula, where does the phrase echar un palo come from?
"My grandmother told me that, back in the times of slavery, black men and women slept in separate bunkhouses – that is to say, the men slept in one bunkhouse and the women in another. During the day, they worked at the grinders where sugar was made and some of them would build bonfires to boil the sugarcane honeys in pots. The only time they could mate was at night."
"These practices gave rise to a secret code used by the male and female slaves interested in coupling at night: they would fling a stick at someone to signal an invitation to romance or sex during the night, out of the sight of the master and foreman. I don't know whether this is true or not, but my grandmother told me this story in all seriousness. She never did mention whether she ever had any of those nightly encounters…"
We don't often ponder about the origin of the phrases we hear. Many of the idioms we use today may also have a historical and cultural origin like this one and are firmly rooted in our culture.