Only Warm Drinks at Havana's State-run Cafes
By Jorge Milanes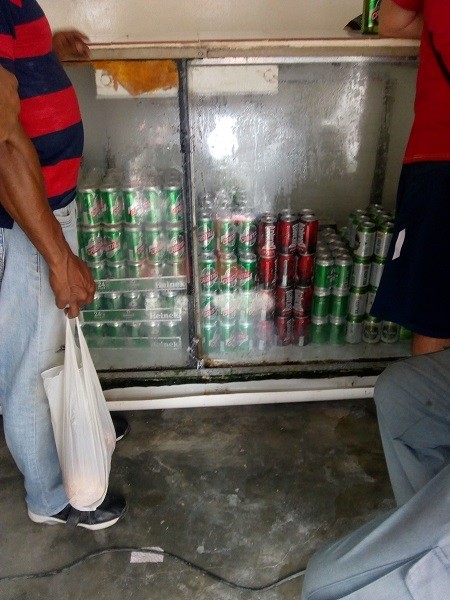 HAVANA TIMES – Walking down Havana's streets and trying to buy a soft drink or beer should be a simple and natural thing to do. After a long walk under a scorching sun, you need to go and look for a soft drink, beer, a bottle of water or any other cold drink at one of the cafes about.
Avoiding buying pricey drinks, some of which are even sold in CUC (the dollar equivalent hard currency), I regularly take a bottle of water in my bag, but this time I forgot.
I had been walking for quite a while. It was really hot and exhaustion was the warning sign: I need to hydrate myself and quench my thirst. There was a state-run cafe close-by. I went up to it.
"Miss, do you have any soft drinks or beer?" I asked.
"Yes, but they are all warm," she replied without looking at me.
I looked around for somewhere else I could go and there was another cafe behind me, which is also state-run, but I didn't seem to have luck on my side. They were also warm there.
"Everything is warm in these cafes, or they don't have anything at all," I said out loud, venting a little so that the shop assistants could hear me, and anyone nearby.
People looked at me as if I didn't live in Cuba, as if I should know how things are around here. I have to blend in and stop kicking up a fuss, or at least that's what it seems like.
The cashier hears me and ends up suggesting that I go to the cafe on the corner, where they have cold water, malt drink, beer and soft drinks.
I headed that way as fast as my exhausted legs can take me, panting almost, while I tried to paint a positive picture in my head: "They will have cold and affordable drinks," I told myself.
I reach the place and I hear a woman's voice ask me:
"What would you like, sir?"
I could see bottles of water, beer, soft drinks and other refreshments, a little more expensive, but they did have them.
The difference was obvious from the immediate and friendly question, to the offers available. It's a private-run cafe.
The owners of these independent businesses buy drinks at any State establishment and then resell them. Caned sodas sold by the State cost 0.50 CUC. When private business owners buy and resell them, they cost 18 Cuban pesos (the equivalent of 0.70 CUC), or even more.
People call this commercial process "black market sales". Although, to tell you the truth, the State authorizes this and even established a price cap for these kinds of products. Nevertheless, state-run cafes have become or act as wholesale markets, selling merchandise in bulk to private business owners.
This means that prices go up. And thirsty people like myself become a little more disappointed when they reach an establishment and hear the word: "warm". This also makes state-run cafes completely unprofitable businesses, with employees who earn a wage just to sit around and mistreat the population.
In the meantime, wholesale options don't exist or are scarce for business owners.
However, before trying to fix this country, I'm happy with just being able to quench my thirst.