Jorge Milanes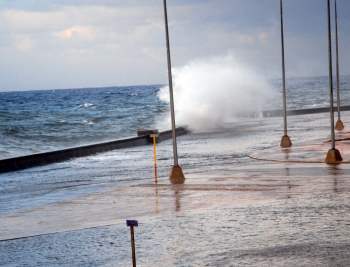 Winter is a season many Cubans prefer because it gives us a break from the island's suffocating heat and humidity.  This is the time of the year when people seem less hurried, when winter clothes come out of the closet, perfume lasts longer, and when there's even an appreciation of the exotic air yearned for by those of us who live in the Caribbean.
One night, when I was coming home from a party with some friends in the congested Centro Havana neighborhood, the artic winds got worse – especially in the streets perpendicular to the sea wall.  What's more, there was a natural spectacle: the waves were sweeping over that centuries-year-old breakwater.
It was around midnight, and a woman standing in front of her house was crying.  I was able to hear her say, "Jesus, my God!  Why?  It was so beautiful!"  She was holding a puppy in her arms, which made me immediately think the mutt was sick, injured, or even worse – dead.
I went up to her, concerned; because I too like pets, though I don't have any because on other occasions I've suffered when they became sick or died.
"Ma'am?  Something happened to your dog?" I asked.
The woman, who looked to be over 60, looked at me.
She hesitated to respond until the insistence of my expectant look forced her to say: "Oh, youngster… People nowadays don't have respect for other people's things.  With all this cold I put a coat on my dog; one that's now too small for my grandson.  And it was a pretty coat!  But look, I went inside the house to get the key and when I returned with my puppy, somebody had stolen my dog!"