The Miracle Workers: On Cubans Living Abroad
Jorge Milanes Despaigne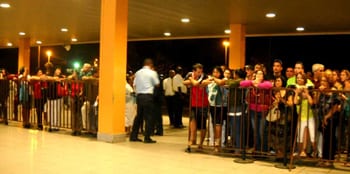 HAVANA TIMES — Unconsciously, a great many Cubans long for a brother, cousin, friend, son or anyone they know to come see them from abroad, in the form a prodigal, generous, miracle-working visitor.
On hearing of such visits, their special senses begin to tingle as they anticipate trips to discos, outings, meals at restaurants and everything in between. But, what is that actually happens?
A little while ago, a friend of mine came to visit from Italy, with his Italian wife. After he'd invited us out several times, paid for a number of meals at restaurants, bought us cell phone credit, purchased food for the house and gave us other gifts, we went to a coffee shop, where we stayed a while to chat after paying the bill. During this conversation, she bluntly asked him: "Why do you always have to pay the bill, even when they invite you out?"
I tried to explain something which is rather embarrassing for me. She's right. I have a job and I could invite them out, if I had a real salary, that is – and that's not the case in Cuba. The money I earn isn't worthy of the name salary. I earn an average wage which doesn't go far, and is certainly not enough to invite others to places that charge in hard currency or its equivalent in Cuban pesos. I simply can't.
Explaining to her that one does not pay for healthcare or education in Cuba, that certain rights are guaranteed here, or about the damage caused by the US blockade, and so on and so forth, didn't change much. In the end, she said to me: "This has nothing to do with the blockade. I've seen people with more money here than in Europe. Perhaps you are not aware of this, but, as tourists, we get approached by all sorts of people. We work very hard back home and though everything is tough, he has two jobs so we can do what we want to do. Many of the problems you mention have to do with Cubans, nothing else."
It ain't easy. It is a deeply-rooted attitude that emerged during the Special Period crisis that began in the early 1990s and which today needs to go.