Kelly Knaub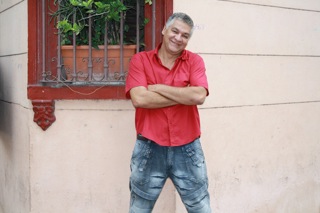 Earlier this week, I discovered the dance company Carnavaleando de Alexis Matos, located on the corner of Jovellar and N Streets in Vedado.  Salsa music can be heard blasting through the windows of this studio just about any day of the week.  This company offers dance classes, performances and a colorful display of Havana culture through their costumes.
Alexis Matos, the artistic director, told me he was inspired to create the dance company after visiting the Brazilian Carnaval in Rio de Janeiro in 1999.
"It gave me the idea to do some things here in Cuba," Matos said. "I wanted to do something with my culture using the ideas of those giant things."
He created Carnavaleando de Alexis Matos in 2002, which now has 35 dancers, two producers and one costume designer. Matos began putting the company together at the Casa Comunal de la Timba near the Plaza de la Revolución.  From there, he found dancers from the Plaza neighborhood as well as Central Havana.  Today, his dancers come from many different neighborhoods in all parts of the city.
The company performs in Carnaval parades, cabarets and children's shows throughout communities in Havana. It has also participated in Carnavals in Pinar del Rio, Cienfuegos, San Jose de las Lejas, Holguin and Artemisa in Cuba, as well as Brazil, the Dominican Republic and Colombia. The company has received a number of awards and recognitions for best choreography, costume design and art direction.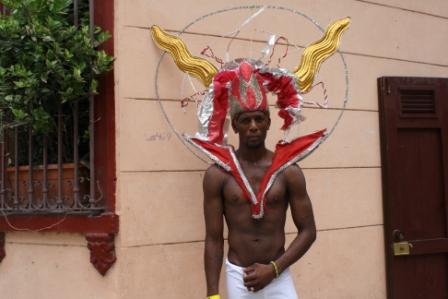 I was dazzled by their vibrant costumes, which express the rich culture of the city.  Some of the outfits are adorned with giant vitrales – stained glass windows – like the ones seen in colonial houses throughout Old Havana.  These windows, also known as "mediopuntos," became popular in Havana in the 19th century.  Colorful peacocks, which Matos said can be seen on patios in Old Havana, adorn others.  Some of the costumes are decorated with giant butterflies, in honor of Cuba's national flower, the butterfly lily.
Frank Pozo Diaz, who has been teaching with the company for several months, said that the group is like one big family. "We help each other with anything," he said.
Diaz said the dance company is "a way to enjoy, to have fun, to teach the culture of our country and pass on the traditions."
The group was kind enough to get into costume and pose for pictures for Havana Times.
Click on the tumbnails below to view all the photos in this gallery