From Big to Little Havana
Kelly Knaub
My ten weeks in Cuba finally came to an end and I flew out of Havana two days ago.  Since I had a stopover in Miami, I decided to stay for several days before heading home to New York.  I traveled to Little Havana yesterday and spent the day exploring the neighborhood and talking to the people.
I met Roberto in the Botanica shop on Calle 8.  As I browsed the Orisha cards displayed behind the counter, I struck up a conversation about Cuba.  Roberto left the island for Miami in 1993. His parents had already settled here, so he was able to come under a family visa.
Roberto explained that Cuban exiles in Miami are sharply divided, in the same way that people on the island have different opinions about what they want for the country. His family – like that of so many Cubans – is divided. Roberto's children and other relatives still live in Cuba.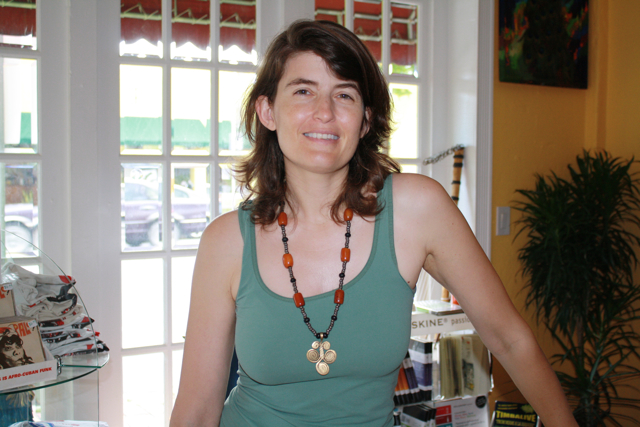 As I walked around the Botanica shop taking pictures of the colorful merchandise, I met a santera named Corinna.  She had stopped in the Botanica to buy some things for a friend's party that evening.  Corinna advised me that I shouldn't be taking photographs of the Orisha merchandise.  I assured her that I meant no disrespect.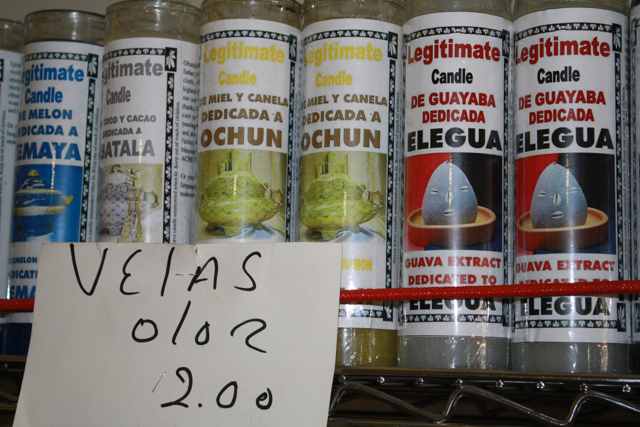 We then walked to Bordercross, the EcoCultural Center she owns a few doors over, and talked for a bit more.  Corinna told me she was inspired to be initiated as a santera after having a prophetic dream.  In this dream, Eleggua – a powerful orisha – was pulling her towards him with a garabato (an orisha stick).
She has now been a santera for a year and half.  Corinna said the Santeria community in Miami has been hearing that Santeria in Cuba is losing its traditions and some iyabós are being initiated in one week as opposed to the required year. I told her I heard of no such thing in Cuba. I thought back to my experiences with Iyalocha Lourdes in Regla. If anything, it was interesting to see the manifestation of Cuban culture in Miami, on the other side of the looking glass.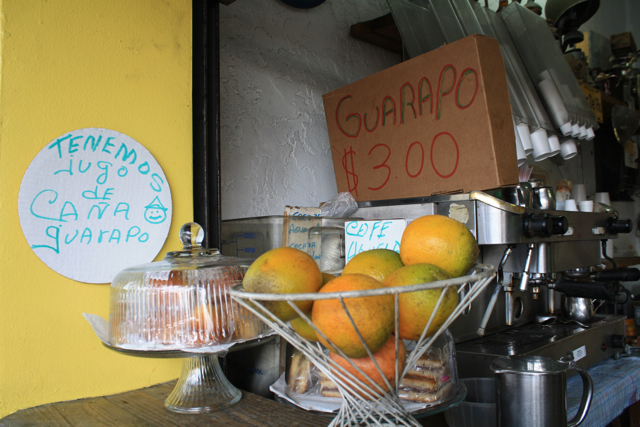 I stopped to buy guarapo – sugar cane juice – as I made my way back down Calle 8. It cost $3.00 – compared to the four cents I paid for the sweet drink in Central Havana – and didn't taste as good. I drank it with nostalgia. I then decided to return to Maximo Gomez Park, the domino club I had visited earlier in the day.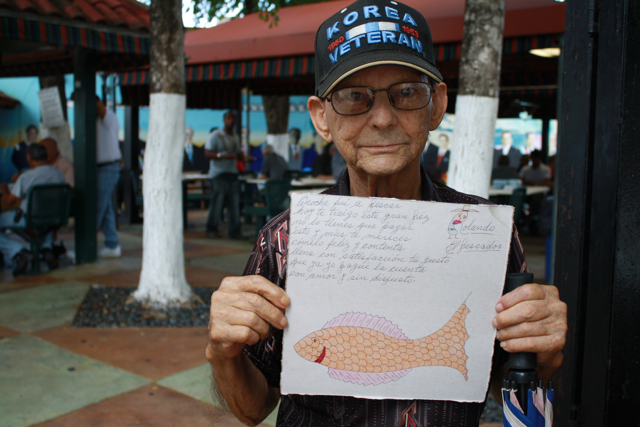 I met Rolando "the pescador," a Cuban-American born in Long Island, New York, who was eager to share his poetry with me. He recited poems about the liberty of Cuba, the splendor of the United States and a beautiful waitress who once served him. I wandered around the park, taking photographs, and then sat down near a table of men playing dominoes.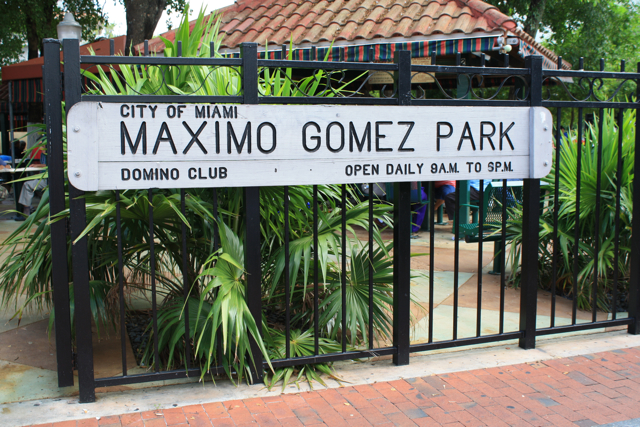 The domino club is for senior citizens, and the majority are Cuban men, but I saw several women, and some of the players were from other Latin American countries. A Nicaraguan man, upon hearing that I had just gotten back from Cuba, shouted across the table at me. "Why did you go to Cuba? Cuba is communist! I hate communists!"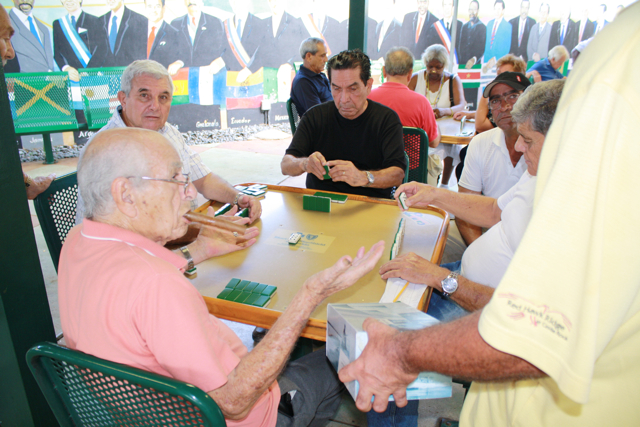 "I'm not a communist," I replied. "Besides," I continued, "That's only one aspect of the country." After the game ended, the man walked over to me and taught me how to play dominoes.
Before I left Little Havana, I met Roberto Ramos, a balsero who arrived to the United States on a small wooden boat in 1992. Roberto told me the story of how he became a passionate Cuban art collector before his journey across the Florida Straits. When he was seventeen years old, an old man in Cuba gave him a painting – El Saxofonista by Carlos Sobrino.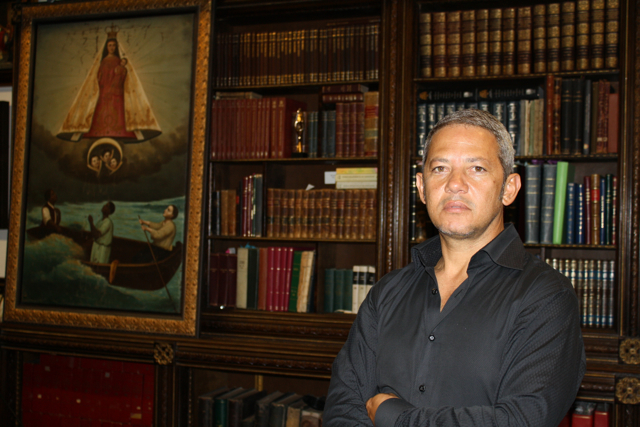 Not knowing who this painter was, he went to various libraries and institutions to do research. He couldn't find anything. Finally, he discovered that Carlos Sobrino had left Cuba after the revolution and the government had erased his art and history from Cuba's past. Roberto discovered that art gave him peace and began collecting Cuban paintings. He hid fourteen pieces of artwork – which were later assessed at $680,000 – in the roof of the wooden boat that carried him across the sea for three days.
Roberto verified his story by showing me Great Masters of Cuban Art, a bilingual book published in 2009 that documents his (and his brother's) art collection and the story behind it. He is now the director of Cubaocho, a cultural art research center across the street from Maximo Gomez Park.
Little Havana was full of colorful stories. I felt the warmth and openness of the Cuban people here in Miami, but I miss the magic of the island. I hope it won't be too long before I return.