Chronicle of a Journey after being Expelled
Lynn Cruz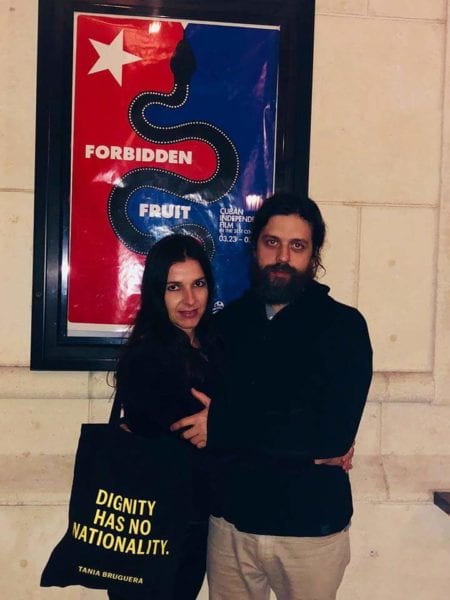 HAVANA TIMES — The first Independent Cuban Film Festival organized outside of Cuba coincided with my ban from entering the International Film School of San Antonio del Los Banos. With Cubans from the country of "Miami" taking the lead, the event had as its forerunner another that had been organized by the Hannah Arendt International Institute for Artivism, led by Tania Bruguera, which took place in New York's Museum of Modern Art at the beginning of this month.
Cubans in Miami have won themselves a piece of land in the US. Terrified of Castrismo, they fell like expatriates into the exile boat and contrary to popular belief, thought and art are buzzing here in this city, in spite of its arid landscape and Anglo-Saxon toughness.
In addition to meeting friends who stood in solidarity with me after I lost my place on Argentinian director Norma Angeleri's workshop at the Film School, my first surprise when I stepped foot on Cuban-American soil was to meet Nat Chediak, the founder of the Miami Film Festival, in a Chinese restaurant called No Name, which he had deliberately chosen to pay homage to the belittlement that Rafael Alcides embodies in our movie Nadie.
We met Javier Chavez, who was with Chediak, a young, introverted Cuban-American who is slow and deliberate with a really sharp way of looking at things, who collaborated in the festival showing movies and assisting Chediak. Chediak has never returned to Cuba, but he says he never left. He lives it through film. He has been scheduling movie screenings for nearly half a century.
On the other hand, Chavez confesses that he doesn't feel Cuban at all; he is 27 years old and the curious thing is that most of his generation who live in Cuba, don't identify with their own country either. Identity is something that is yet to come. You aren't born with it. A sick land spoils its fruits. It will never be a reason for compatibility.
The Forbidden Fruit Festival at the Coral Gables Art Cinema concluded on March 29th. It included a varied program with 25 movies, bringing together most of the movies that are left in the dark in Cuba. If they don't deal with subjects banned by the government, some of them find their way onto the Weekly Package, also know the as Cuban Netflix.
Every week, those who are lucky enough to own a computer can purchase this Package for 2 Convertible Pesos and receive 1 Tb of information, movies, series, TV programs made in Miami, the most-watched videos on YouTube, as well as independent Cuban movies.
The most daring, which can't be found in the Weekly Package, are in the Paquetico (Small Package), which has a more limited, but bold selection.
Today, Cuba could be analyzed via "illegality", a term that was invented to describe something that survives in a legal limbo. Thus, independent movies and media and a large sector of our national economic activity, both public and private, suffer under this irregular status.
There is currently a movement that has been created by new technologies and access to new media, which has sparked the evolution of filmmaking to making movies with low budgets, most of which come from crowdfunding campaigns and the self-management of young filmmakers, who are determined to defend a platform that gives them a voice.
However, many of these movies don't then find their way into a place to be shown, in or outside the island, if they make Cuban politicians uncomfortable because of its daring content, which aren't subject to self-censorship which most Cubans movies are.
Bruguera and Chediak have come together accidentally and they are raising their voices in the name of a Cuban community that suffers the pain of having their land kidnapped from them. Thus, the subjects dealt with in these movies revolve around deceit, a lack of freedom, fear which borders on paranoia, neglect, apathy, poverty, movies which live in the Post-Fidel world.
The thing I liked the most about Forbidden Fruit was the willingness to move past the hard feelings and disappointments that Cuban people have, who can only come together through art, especially film. There is an English saying that goes: "The boss sets the tone." Chediak has promoted a dialogue between viewers and filmmakers which, at least in my case, has led to the most special experience I've ever had as an actress.
I could see Nadie in a movie theater for the first time, in high definition, and confirm, alongside its director Miguel Coyula, that its audience are Cubans wherever they live, as Alcides, the dissident poet and lead character in the documentary, manages to express his truth which is the same truth for anyone who has suffered indifference at the hands of a system after crushing anyone who has judged it outrightly and been in power for nearly 60 years.
We were invited to Channel 41, to the program A Fondo, which is hosted by Pedro Sevsec and accompanied by critic, journalist and one of the festival's curators, Alejandro Rios, a program which goes beyond the local and deals with more universal issues.
Meeting up with Juan Carlos Cremata, Eliecer Jimenez and Humberto Padron, three Cuban filmmakers who also took part in the festival with their movies, was a gratifying and also sad experience at the same time. Trapped by a black and white policy, just like we are, which hasn't done anything but divide the Cuban people from its exile community. We were free of all labels and manipulation for a few days. The Forbidden Fruit Festival appeared as a real alternative project for independent works created outside of Cuban institutions and the government.