Havana's Napoleon Museum and a Female Perspective on the Vedado Neighborhood
Lynn Cruz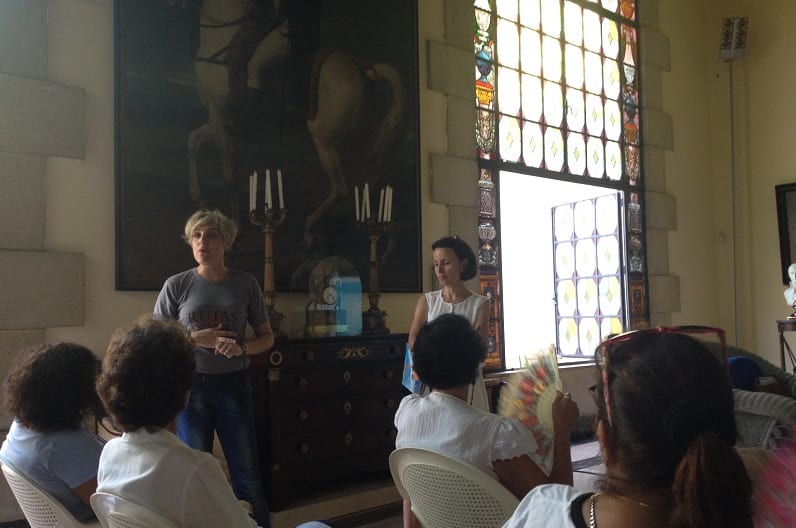 HAVANA TIMES – The Napoleon museum is part of the City's Historian Office's network of museums program in Havana. Every summer, conferences and programs centered around diversity take place. These began on July 1st and will go on throughout the whole of summer.
People interested in women's presence in the arts can go to Havana's Napoleon Museum Tuesday August 7th at 10 AM.
This gallery also holds one of the most important collection of Napoleonic objects in the world. The building was designed by architects Gobantes and Cabarrocases, typical of the eclectic architecture found in the Vedado neighborhood.
It is located within Orestes Ferrara's old residence, an Italian who joined the independence war and who was then active in the Republic's political scene.
"We have drawn attention to the French presence in the city, now is the time for exhibitions that aren't put on because there are so many which are permanent collections. It also allows other works that are kept in storage to be displayed, which need greater research as pieces that might not be so important." We also want to end with subjects that combine the museum's staff with other researchers," said Sadys Sanchez Aguilar, the museum director.
"Every year, we try to invite academics from different subject areas, but with similar research projects. This year, we have decided to join projects linked to the City's Historian Office, which specifically focus on art museums."
"We also want to carry on holding a summer workshop in collaboration with the Alliance Francaise, dedicated to children, with the difference that we have incorporated French as a language."
"As part of the City Historian Office's museum network, we want to bring researchers and museum directors together. We have also been holding activities in collaboration with Casa de El Vedado and Casa de Las Tejas Verdes, as we are also interested in including architecture," said the museum director.
The conference I recently attended at the Napoleon Museum: "European Travelers in Modern-Day Havana: The Vedado neighborhood", was given by art historian, Omara Ruiz Urquiola.
People didn't only come from Havana, but from the neighboring provinces of Mayabeque and Artemisa too (to my surprise), who revealed a particular sensitivity and sense of belonging to the city's history which is told via its buildings and cultural heritage.
However, this is just the extract from a more comprehensive study: "The appearance of El Vedado from European historians' perspective", which Omara began at the Segundo Cabo Palace, Cuba-Europe Cultural Relations Interpretation Center, in the Travelers Room in 2015, to be exact.
Research which led to the content which not only show the willingness to highlight Cuba's ties with the old continent but also important Cubans and the influence Europe had on their lives, from Jose Marti to Dulce Maria Loynaz," Omara said in her clear presentation.
Near the end, Omara was inspired by the audience's comments and warned about the dangers that are creeping up on Vedado. New buildings that are incompatible with the surrounding landscape, a recurring subject for architect Mario Coyulo, who the historian quoted.
She reminded us of the initial urban developments made up of isolated two-storey houses, with high ceilings. Building tall buildings in the shape of towers would especially clash, changing the neighborhood's skyline and character.
Vedado[i] is one of the capital's most important neighborhoods. Many investors have their eyes on the neighborhood because of its central location and urban, environmental and architectural features. A very careful analysis will need to be carried out which will reconcile development with keeping its values.
[i]Taken from the Revolucion y Cultura magazine, edition No. 5/99 Pg 21… 25 "En defensa de El Vedado" Mario Coyula.