Maria Matienzo Puerto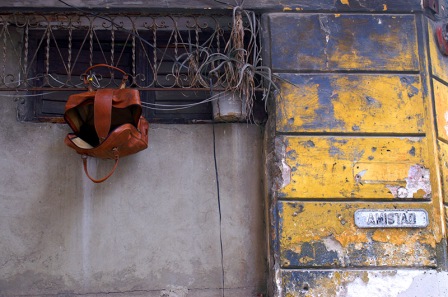 A meeting in a café can be a good point of departure if we want to analyze various points in our life.  This is what happened to me after my friend "L" wrote me after I don't know how many years of distance between us.
At the beginning of her letter I could hardly relate to her, but she only had to push the door a little to remind me that this was the same L who years earlier had been my close college classmate.  So, why not?  Having a coffee and a long conversation after so many years would be a good opportunity to relive shared moments.
Although L and I didn't spend the first year of classes together, we saw each other in the halls of our faculty or would run into each other anywhere else on campus.
It was in our second year —when they restructured the classes— that we were no longer a pair of unknowns.  We begin to study together every time the complexity of the subject matter required it, and through this we came to share other circumstances of life.
I'm still not able to recall why we distanced ourselves so much after having finished our studies.
L, after completing her social service obligation in a rural school, requested a transfer from under the Ministry of Education and now she's a journalist.
I asked myself aloud how was it that we'd never bumped into each other somewhere, since I had also practiced journalism for several years.  Her response was immediate.  She's connected to the area of journalism that covers the technical sciences.
Although people complain that the preparation we received wasn't the best, because our institute was one of the most forgotten (the Superior Pedagogic Institute), one has to recognize that our efforts and those of some of the professors on the faculty were not in vain, I argued to her.
This is when L reminded me of what I'd completely forgotten.  "How were we supposed to be better, Maria, if we only received three years of a five year program?!"
And it's true; we had only spent three years studying as real students.
What happened was the Revolution [the State] required us to vacate the classrooms and traipse off to give classes to high school and junior high school students for three days a week.  The two remaining days, those that were supposed to be for studying, were also needed by the Revolution so that we could join in whatever glorious march they had called.
The five years went by and no one considered the fact that with so much effort we had already served our social service obligation (the cost of "free" university instruction).  The truth is, after graduation we went on to serve it a second time.
The get-together with L was pleasing, but the coffee made me bitter remembering things I hadn't wanted to.  That's why I write about them.  Perhaps this diary serves as a remedy for me given the nausea and sickness I feel with all the doubletalk.