Miguel Arias Sanchez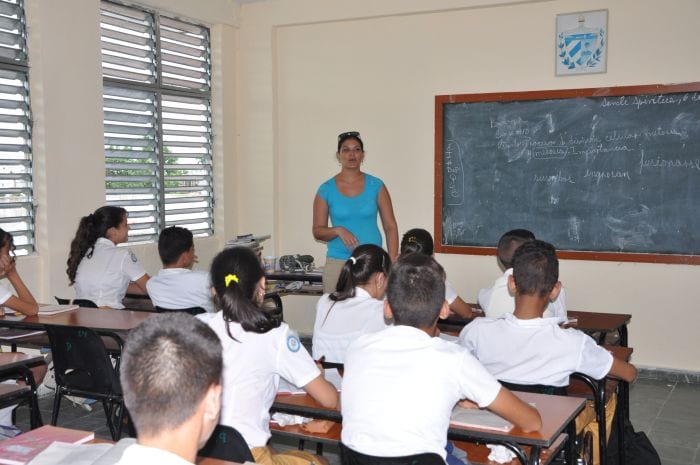 HAVANA TIMES – Every year, we celebrate Teachers' Day in Cuba on December 22nd. This date was chosen because it was the day that Cuba declared itself a nation free of illiteracy, after carrying out a literacy campaign organized by Fidel Castro in 1961.
It deserves to be a day of celebration, but it should also be a day for us to reflect upon the importance of teachers within society.
In the past, teachers were an important figure and they inspired everyone's respect. Saying you were a teacher meant you were the highest authority anywhere you went. A moral authority because of your knowledge and attitudes in life; as well as your ability to pass these on to others.
Nowadays, this esteem and respect for teachers has greatly declined.
Back then, when a teacher used to call a parent because a student was misbehaving, parents would go red with shame and the child couldn't speak out against the teacher in front of their parent because they knew that they were going to get punished for sure and would have to do as their parents said. It wasn't fear, it was respect; although there were exceptions, of course.
Unfortunately, that's no longer the case. The symbolic figure of the teacher has been gradually declining, a consequence of the loss of values we are experiencing in our society, and even teachers themselves, who also suffer because the State underappreciates them. It's a vicious cycle that is hard to break.
I have seen a teacher speak to a father about his son, and he mistreated the teacher and let his child treat the teacher as if he were a dirtrag. I don't agree, but I understand that this has been happening because education professionals have also stopped being an example.
When you come to think of it, there is no longer any teacher that serves as a reference, society doesn't listen to them and value them. I would say that things got worse when the Special Period crisis of the early 1990s came about and if we add to that the low incomes they receive, we see how the Government isn't really interested in them holding the place they should have in society.
On December 22nd, people will take gifts into school, gifts that will reveal parents' financial status, but otherwise, teachers aren't taken into consideration in everyday life.
Cuban philosopher and educator Jose de la Luz y Caballero said that anyone can teach but only a living apostle can educate. We are very far from that. We need to return to this reality and we need to go back to seeing teachers, and them becoming, this living apostle that this great teacher of the Cuban people speaks of. However, so many things need to be changed for that to happen, so many…