Tattoo Art in Cuba: illegality, closures and crisis
Naty Gabriel Gonzalez
HAVANA TIMES — Following a decision to authorize different forms of self-employment, the Cuban State, through the Ministry of Labor, made available a series of licenses to operate private businesses. These licenses come with numerous restrictions that determine what is and what isn't legal.
In a previous post, I wrote about tattoos and the precarious situation Cuban tattoo artists found themselves in, denied a license that authorized them to operate legally and therefore having little control over sanitary issues (to prevent the spread of diseases, for instance), as well as being unable to abide by all of the norms and carry out their activity responsibly.
Well, during the first week of June, in Old Havana, civilians with tattoos went to a young man's parlor, asked him to sketch out a tattoo for them and, when it was time to pay, took out a confiscation order, identifying themselves as inspectors from the Ministry of Labor.
They claimed the young man had an illegal business operation, as he had no tattooing license. They confiscated all of his materials, including belongings that didn't have to do with his work, and applied a fine of 1,500 Cuban pesos (US $75). This was also done with an additional 10 tattoo artists in Havana and a number of artists in other provinces.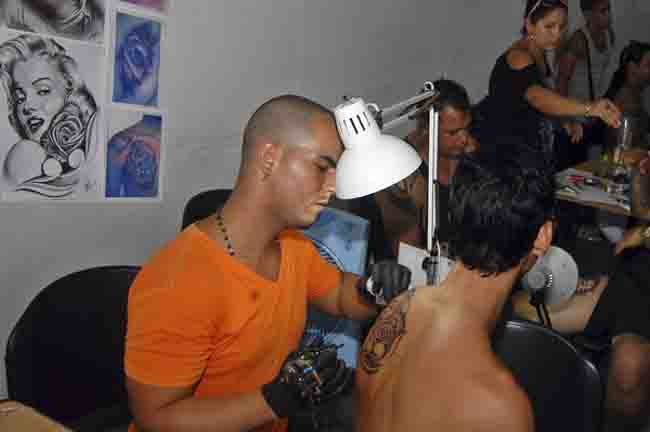 Those with tattoo parlors, informed of these incidents, closed up their studios and approached lawyers to seek legal counsel. They went to the Ministry of Labor and no one there was willing to give them any kind of explanation, save that it was an illegal practice and that there was no government license for it – that, in addition, Cuba's Official Gazette had published Article 2.13 of the new Labor Code, which authorized licenses for illustrators that excluded skin as a medium. They were told that they had more than enough reasons to enforce the law and close up their studios.
Tattoo artists gathered on two different occasions, but, the second time, they were intercepted by inspectors who accused them of meeting for counterrevolutionary purposes. Fearing future reprisals, many stopped attending these meetings.
A blog tackled the issue with a markedly political tone and the lawyers approached were intimidated in their State law firms, so they abandoned the case.
No one knows why, after 20 years in which tattoo art has been practiced in Cuba in a kind of legal limbo, such measures should have been taken, without any explanation being offered to the individuals who were saddled with this faceless legal yoke.
It is curious that Leo, the Cuban tattoo artists known for having tattooed soccer legend Maradona, opened a body-art gallery named La marca ("The Mark") and was granted every condition needed to legally tattoo people and exhibit his work, as well as to organize body-art events. This gallery-studio has had no legal troubles and has faced no official sanctions – it was even an exhibition space at the recently-concluded Havana Biennale, where a renowned Mexican artist tattooed people in the gallery, next to other Cuban experts.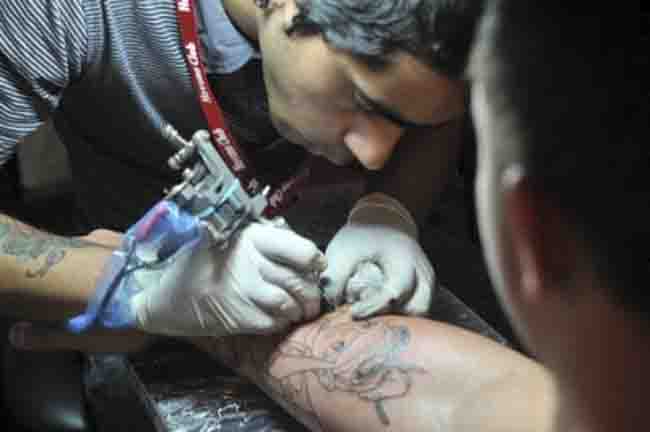 All of the artists affected are asking themselves how tattoo art is practiced right in the heart of the old town, without any kind of limitation, and small studios are not authorized to do so. Why is one law being applied so severely to one group of people and not to others?
The young artists' association Hermanos Saiz met with the tattoo artists, most of whom are members of the visual arts section of this organization. The association had talks with the Ministry of Labor and, since then, the clamp downs and shutdowns of studios have stopped. The artists were returned their belongings, but the fines applied were not reimbursed.
Tattoo artists, however, remain in legal limbo, a situation that affects them and people who want tattoos, as there's no optimal control over sanitary conditions and this can lead to the spread of diseases or result in skin damage.
Most tattoo artists believe that a special license is required for their work, one that will establish clear, exclusive requirements (as not everyone is capable of doing this kind of work). They also agree that controls in terms of sanitation and quality must be put into effect, and a State structure should be created in conjunction with the Ministry of Health, with sanitary mechanisms that can provide tattoo artists with the materials they need – if not through a State supplier, then through an intermediary authorized to sell such supplies.