What if Fidel's Death Was True?
Nonardo Perea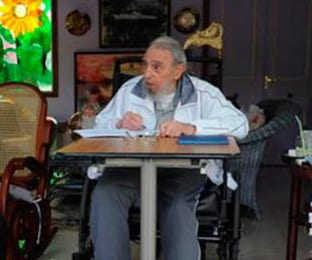 HAVANA TIMES — There are a lot of people who fantasize saying that Fidel Castro is dead, however, we all know that this isn't true because, from time to time, the media shows us images of this man alive and kicking.
I was recently lining up in one of those horrid queues outside of ETECSA so I could top up my internet account, and the most interesting conversation broke out among several people there. It all began when a 60-something year old man asked God to end Fidel's life to see whether all of our problems would be solved once and for all. Others also wished that Raul Castro die, because what good would it be if one of them died and the other one continued to stand on his two feet.
The opinions I heard there made me chuckle, but it also saddened me to see that there were people who wished for the deaths of other people. Personally, in spite of me not agreeing with the system, I've never wished that any of our leaders die, nor any other human being for that matter. I suppose that the solution to our country's problems lies within our own hands.
I ask myself, would the lives of Cubans really change if these two human beings were to pass away?
That conversation only helped me to understand that we live immersed in a society where hypocrisy and double standards are at the top of the agenda.
I'm convinced that if Raul Castro had turned up just then, everybody would have cheered and bowed down to him, shouting slogans that we learn here by heart.
In short, the conversation would have been completely different and we Cubans are very used to this, saying things behind people's backs, unable to claim our fundamental rights, and when it has something to do with politics, we prefer to keep quiet and lie, lying to ourselves time and time again, and nothing, it's not by chance we continue as we are, screwed.