Osmel Almaguer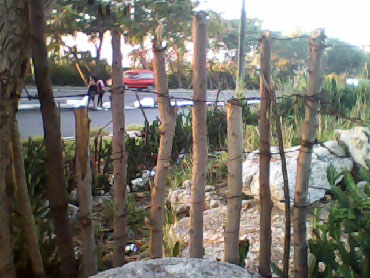 HAVANA TIMES — The world food crisis is getting worse every day. As a result of the irrationality of the capitalist system, vast expanses of land and other resources that could be used to feed millions of people are destined to fuel production, while food production outputs continue to dwindle more and more.
Needless to say, food distribution imbalances – a situation in which food is squandered in one corner of the planet, while countless people die of starvation in another – are a major part of this crisis, to say nothing of the impact that excessive industrialization is having on natural settings that have not yet been destroyed.
Faced with this situation, small, poor countries have no other alternative than to produce their food through their own efforts, without making large investments in production machinery. Cuba, whose government has recently been pursuing policies that point in this direction, is a case in point.
Ten or fifteen years ago, marabou plants covered a great percentage of the island's cultivable lands. Agricultural production had dropped to the point of almost collapsing entirely (though Cuban news programs insisted otherwise).
The first campaign launched by Cuban authorities to revitalize the sector was an initiative to eradicate this plague, a thorn-covered shrub which propagates quickly across the land, particularly thanks to cow feces.
Almost immediately, the news began to report on farmlands that were "free of marabou", with a view to prompting smallholders to follow in the footsteps of those who had attained such results.
Though plagued with large tenement buildings, Alamar, a peripheral neighborhood in Havana, is a semi-urban area with abundant green areas, and people have begun to avail themselves of these yet unoccupied, cultivable grounds, compelled by food shortages (or to set up what proves a relatively lucrative business).
I went out to buy some garlic and returned home with a small can of flimsy cloves which cost me a full fifteen pesos. A pound of black beans is often as expensive as twenty pesos. We can imagine, from this, the kind of figures that flash across the minds of these would-be farmers.
I, who live in the outskirts of Alamar, spent the first 33 years of my life denying my semi-rural condition. Many things have changed in me and my surroundings, however, encouraging me to embrace farm work for the first time…in a lot behind my house.
I have not, admittedly, been immune to financial motivations (some money to touch up my house, which hasn't seen repair work in over 20 years, would not be bad at all). But, most of all, I am driven by a sense of communion with nature.
I don't call it a farm. I call it "The Hill". Its my small, private Zen garden, where I spend many happy hours, shielded from the deafening noise of cars and machines and the bitterness of people.
I work at a slow pace, not aiming at any material goals, but to enjoy the moment, grateful for this time of peace which allows us to create our own future, through our own efforts.