—Yesterday I slept at my mother's apartment because in my house there is no video recorder and in her place there is. I took advantage of the opportunity to see some lectures on Cuban culture, a required class that I'm currently taking in the University.
My mother lives on the first floor of a three-story building in the Havana suburb of Cojimar. Her apartment is somewhat narrow, and she likes to decorate it in the old style, with lots of large ornaments and furniture.
That makes cleaning more difficult, and between the domestic work and her regular job, the public one, it takes up all of her time. She can't do more.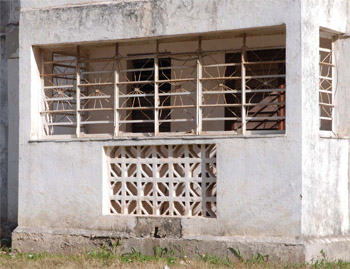 Facing the entrance to the building is a big tree that obstructs the circulation of air and shades the apartment. On the back side, there's another building built in violation of the minimum distance established by architectural standards.

For that reason the apartment is damp and dusty and it makes it a little difficult for me to spend time there since I have allergies.

Last night I sneezed up a storm, but I also studied a lot, and that made me feel good. Besides, my mother is a very attentive person, especially with me. Although she lives with her husband (who isn't my father) and my sister, whenever I'm there I get all the treats and all the attention.

That doesn't really make me so happy, because I believe it makes the rest of the people feel bad. But I know that this comes from me having the most health problems, and also because I'm the son.

My mother is a peculiar person. She is detached and sometimes closed. She is dominant and at the same time overly sensitive. For my part, I can be a little clumsy in dealing with people and that can cause some friction.

Her husband loves her a lot and supports her blindly in any situation. My sister is somewhat like me. So you can imagine that the coexistence when I'm in that home can be troublesome. But it's not that big a deal, it's a matter of character, because we all love each other a lot.

I spent the entire day fearing a clash or one of the frequent misunderstandings with my mother. When it was time to sleep, I lay down on the couch and woke up with back pains and an allergy attack, but it was nothing serious.