Osmel Almaguer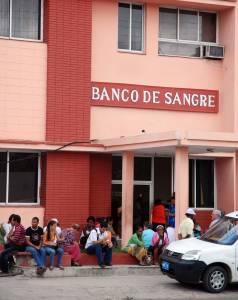 Blood donations of are a matter of great bearing in Cuban society.  Almost fifty years ago, through the Committees for the Defense of the Revolution (CDR), the revolutionary government orchestrated a system thanks to which thousands upon thousands of donors have saved the lives of others through the exercise of voluntarily giving their blood.
Attitudes like that cannot be classified as anything other than evidence of the deepest humanism on the part of those who donate and also of the leaders who showed the resolve to organize a system such as this.  Such an effort involves the coherent action of hosts of professionals, volunteers and facilities like hospitals and blood banks.
In theory, perfection is usually very easy to reach, but in the practice problems always arise.  This was the case with a friend of mine, Raulito, who on one occasion decided to become a "special donor" but ended up being the victim of logical human errors.
To be a regular donor is now a quite remarkable task, keeping in mind the difficulties of securing sufficient food, the unpleasantness of having a needle stuck in your body and the almost totally free character of the donation (my friend's commander-and-chief of the same name has not spoken out on eliminating that type of gratuitousness).
Yet beyond all that, being a "special donor" turns out to be much more praiseworthy, though in those instances blood is not really given for free.  This is because to donate monthly and to respond to each emergency call, they assign you a monthly quota of food that, according to Raulito, consists of some 10 pounds of cow bones, two pounds of croquette doe, and quantities of salad and root vegetables, depending on the supplies in the warehouses.
Other promises were made to my friend, who began to donate his blood with the vain hope of receiving free invitations to campismos (public campground retreats) and parties, recognition by the CDR or occasional deeply discounted lodging in tourist hotels.
After several months of his hopes becoming dashed and his disappointment turning into anger, Raulito relinquished his special status as a blood donor.