Respectfulness vs. Crude Disregard
By Osmel Almaguer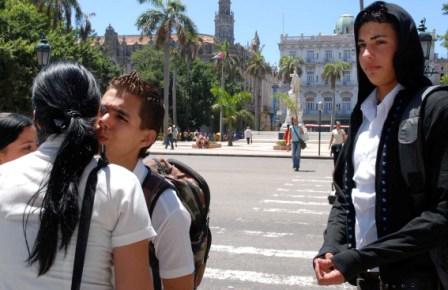 It seems that she grasped the reason for my confusion when I added, "good afternoon, once again."
Was that an excess of courtesy, mechanically greeting her on two occasions?
However, she looked at me with pleasure, as if she could read my mind, and finally responded, "Being kind and courteous can never be overdone. Unfortunately, there are those who never reply or greet, like those people I run into daily at the bus stop."
I felt better then. To know that I shared the elevator with someone who thought like me in that sense eased me into a state of relaxation. That prompted me to respond to her saying, "The ideal thing would be to be able to offer happiness to those who surround us, and although they don't reciprocate, to know how to imbue oneself with that feeling."
As the elevator door opened, an elderly woman got in. Able to catch my last sentence, she responded, almost euphoric, "You're like me, what I've achieved in life has been with a lot of love and good manners." From that moment on, the woman didn't stop giving examples and recounting anecdotes.
When the two of us passed the building security guard-each with that characteristically Cuban form of confidence that, when united with kindness, can cause magical effects-he chimed in. What he said, although it was interjected into our conversation without being invited, was pleasing, as he spoke slowly and clearly.
After going down the stairs, I said goodbye to the older woman. I know that she was left pleasurably impressed with my personality, despite my youth (because if one thing is certain, it is the lack of manners, civility, courtesy and politeness of today's Cuban youth). Many things have influenced this, including the economic, social, and family situation within and outside of our country.
Later, at the bus stop, catching a guagua (bus) didn't take long. Exactly as its doors opened, an avalanche of people streamed from all the exits. If I hadn't stepped back in time I would have been knocked down, as happened to another girl run. From behind her three men pushed through uttering phrases that I dare not repeat-not for their immorality, but for their inhumanity.
Today we have very well-mannered people, but also many people like these, who don't believe in anybody. Violence engenders violence, because it is as cold as ice, and at the same time it burns like fire, and its light can leave us blind. To see these things is to have a conscience and to not be left blinded. This is a difficult task for the sighted, who must teach without getting trounced.